BARNEVELD, Wis. – From increasing your effective range to shooting faster without sacrificing precision, the benefits of running a red dot on handguns are numerous and proven. The new Vortex® Defender-CCW™ lets anyone packing a full-size, subcompact, or even a micro-compact for self-defense experience the speed and accuracy advantage that's so critical when facing a threat with nowhere to run.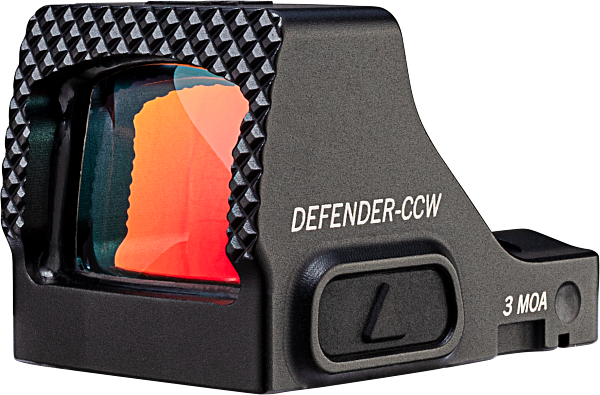 Meant for people who prioritize personal protection, the Defender-CCW™ is focus-built for the demands of modern concealed-carry users. Ultra-compact and tough, it delivers the biggest sight window in its class for "both eyes open" shooting and enhanced peripheral vision. The smooth, slim profile means no extra bulk or width for a no-snag draw from under clothes and less chance of printing, so the only one on the street who knows you're packing is you. Other design benefits include:
•LARGE ASPHERICAL LENS for distortion-free sight picture and truer colors
•SHOCKSHIELD™ polymer insert to protect against hard, daily abuse
•FAST-RACK™ textured front face that adds grip for racking slide
•ADJUSTABLE BRIGHTNESS for customizable illumination settings
•AUTO-SHUTOFF to preserve battery life
•MOTION ACTIVATED for instant readiness when you need it
•SHIELD RMS FOOTPRINT eliminates costly retro-fitting, extra plates, drill and tapping
•3 or 6 MOA red dot reticles available
Rugged. Reliable. Ready to defend. Trust the Defender-CCW™ (MSRP $349.99 / MAP $249.99) to help you carry discreetly and with more confidence, keeping you prepared for personal self-defense when the stakes are high.
To see more from Vortex®, visit VortexOptics.com
You can skip to the end and leave a response. Pinging is currently not allowed.