Horsham, PA – (February 6th, 2023) – Mission First Tactical (MFT) manufacturers of state-of-the-art, USA made rifle/carbine accessories and holsters, is proud to announce the introduction of their new MFT Belly Band holster. Carrying a firearm has become the standard; the MFT Belly Band holster gives you the comfort you need for everyday-carry.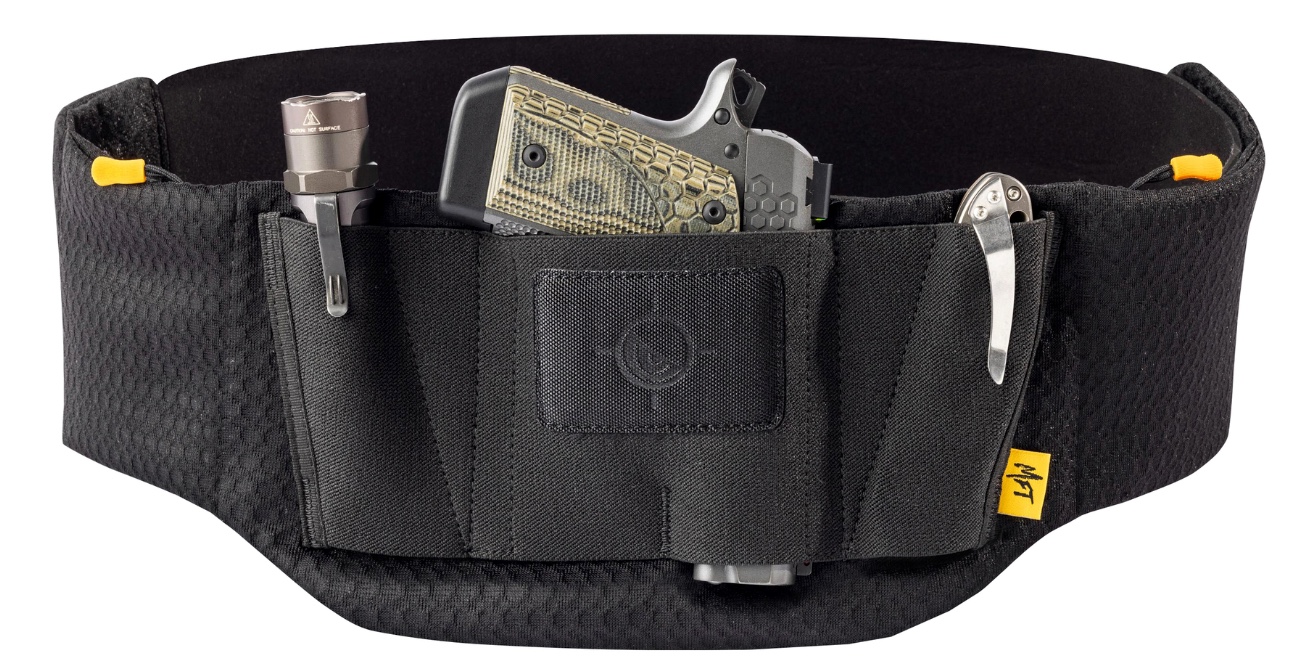 "With hundreds of Belly Band options out there, we can say there is nothing like our Belly Band in the market." said David Edelman, Vice President, Mission First Tactical. "This new, unique, first-of-its-kind design is sure to be a hit with those who want the freedom of carrying their firearm comfortably and safely, without the use of a belt."
The new MFT Belly Band holster's comfortable, all-day carry is achieved with 3D Spacer Mesh Fabric. Special channels allow for more efficient airflow, increasing comfort in comparison with other elastic-type holsters. An open-air weave construction design provides for air/moisture to pass through, naturally hindering bacterial growth. Maximum breathability keeps you cool and dry all day long.  A soft, medical-grade Hook & Loop construction ensure no chaffing.
The MFT Belly Band holster has a self-laminated fastening end that can be cut and trimmed with scissors for a custom fit. The hard laminate trigger shield protects the firearm's trigger from unwanted intrusion. The MFT Belly Band has two elastic pockets for spare magazine, knives, flashlights and pepper spray. The holsters have two secure YKK zippered storage pockets that are ideal for credentials, cash, keys, cell phone etc. It's ambidextrous and compatible with wide variety of firearms. The best thing about this holster there is no belt needed! It's great for walking, jogging, hiking and biking etc. It's designed to go wherever you go. This a great solution if you're wearing activewear such as shorts, sweats or leggings. The MFT Belly Band holster is designed to accommodate waist sizes from 26" to 52". MSRP: $49.99
"CLICK HERE" to see product-in-use video.
MFT welcomes dealers to join them in representing their innovative products to the tactical and self-defense customers. MFT values these partnerships and relationships.
If you're looking to add MFT's industry-leading products to your sales portfolio, please visit [email protected] for information on how to become a dealer.
MFT's point of purchase (POP) displays make it easy to add an assortment of their best sellers. They are easy to assemble and there is always free freight with a qualifying program. The unique and visually cool designs add to the look and feel of any shop. Their POP displays will tell the product's story to increase sales.
Founded by experienced retailers, MFT knows how to create and deliver products your customers want. Superior packaging highlights the item and helps the customer understand what its use is and how it's installed without the help of staff. Unlike most, MFT has the experience, understanding, and depth of product to provide combinations that maximize sales. Easy reordering, near-perfect fulfillment and customer service supports dealers from start to finish. MFT adheres to a strict MAP policy which ensures healthy margins. All MFT products are made in the USA and backed up with a Lifetime warranty. Sign up today!
To learn more about the MFT Belly Band holster and complete product offerings from Mission First Tactical, please visit: www.missionfirsttactical.com and follow us socially on Facebook or Instagram
You can skip to the end and leave a response. Pinging is currently not allowed.