GORE Brands exhibited two new jackets from Beyond Clothing's new Jäger line which incorporate WINDSTOPPER fabric by GORE-TEX LABS.
WINDSTOPPER fabric is 100% windproof and is used in zones of the jacket such as the front and rear panels as well as the hood to help shed weather and wind to keep the core warm and dry. In such hybrid constructions as we see here, other zones such as under the arms, offer more traditional fabrics to assist with air circulation for active wear.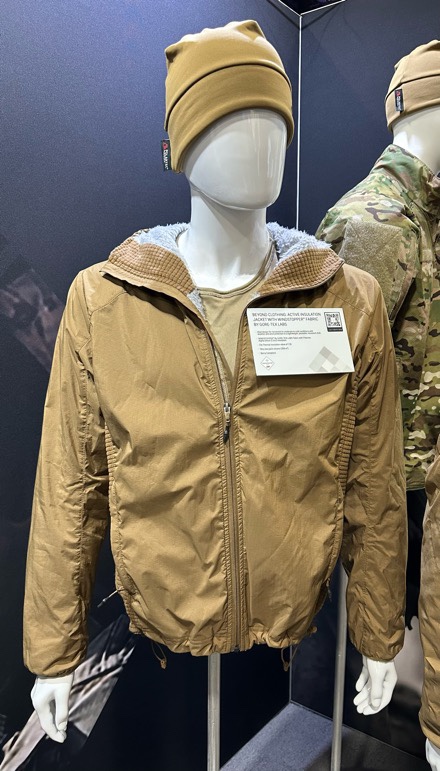 The first jacket is the Jäger and pairs the WINDSTOPPER shell with Polartec Alpha Direct* insulation and stretch side panels. I'm a big fan of both WINDSTOPPER and Alpha Direct but haven't had a jacket yet which combines the two. This combination offers high air permeability for high aerobic activity as well as weather protection and insulation. It is ideally suited for wear in cold wet conditions down to +20°F. If you're wearing a ruck and constantly moving, this is the jacket for you.
For those of you who appreciate the details, this jacket offers a Clo Thermal insulation value of 1.19 and Low Water Pick-Up (15.78% after 30 minute in a light mist).
The second jacket is the Mountain Jäger which combines WINDSTOPPER By GORE-TEX LABS fabric with Climashield Bio 2.0 oz Insulation and a 40d lightweight liner with stretch side panels. There is also gridded stretch fabric at the chin for comfort in the cold when you're all bundled up.
I'm told there's also another model in the line without the side panels and with additional continuous insulation for even colder conditions.
The Mountain Jäger still has decent air permeability but it is a better option for those who will operate in more static modes. It provides good performance in Wet Cold (+39° to +20°F), Dry Cold (+19° to -4°F), and even Intense Cold (-5° to -25°F) conditions when incorporated into a layering system.
The tech specs are Low Water Pick-Up, 15.13% after 30 minute in a light mist and an even higher Clo thermal insulation value of 1.79.
Although the Jaeger line jackets aren't specifically intended for any military programs, they are great options for organizations seeking to update their active shells. Prototypes of both have been evaluated by multiple US military organizations with very positive feedback.
Contact Beyond to learn more.
*This is a prototype. Production versions will feature color matched Alpha Direct insulation.
You can skip to the end and leave a response. Pinging is currently not allowed.