ARLINGTON, Va. (AFNS) —  
Department of the Air Force senior leaders presided over a ceremony unveiling commemorative wall art titled, "A Shared Foundation; Celebrating 75 Years of Air and Space Power," at the Pentagon Aug. 29.
DAF celebrated the 75th Anniversary of Air and Space heritage in September 2022 and commissioned the art to help tell the stories of the U.S. Air Force and U.S. Space Force, which required nearly 18 months to complete due to the artist's extensive research into each of its numerous elements.
The artist, Warren F. Neary, focused the content of the piece on the contributions of Airmen and Guardians throughout the eras. Beginning with the earliest airpower innovators in the Army Air Corps, the art highlights significant milestones and achievements.
"[Neary] met with DAF leadership and visited bases around the country to capture the range of the missions and the people that compose our Air and Space Forces," Secretary of the Air Force Frank Kendall remarked. "The people you see in the painting are depictions of real Airmen, real Guardians; both are part of our heritage and those who are currently serving … [This artwork shows] people who helped build our organization, the aircraft and equipment that shaped our experiences and the missions that drove it all."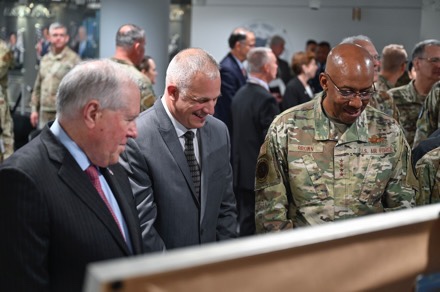 In addition to depicting Airmen and Guardians, the artwork features various Air Force and Space Force platforms and systems. In total, 114 unique visual elements are incorporated into the piece.
Each group of elements in the artwork is designed to form the shape of the delta or infinity symbols. The delta symbol carries a deep, historic meaning for both the Air Force and Space Force and signifies upward trajectory and rapid advancement. The infinity symbol represents the ever-present requirements for adaptation, improvement, innovation and vigilance.
"Our heritage is incredibly important — it tells our story. It reminds us of who we are and where we have come from, and why it all matters. The images that surround this piece are powerful. They shape our culture, our sense of purpose and our warfighter mindset."
-Secretary of the Air Force Frank Kendall
Neary has created many works of art throughout his career depicting subjects of air and space power. He has received national-level recognition, and his artwork has been exhibited in the National Museum of the Air Force, the Museum of Aviation, the U.S. Air Force Art Collection and the U.S. Army Center for Military History, in addition to private collections.
Secretary of the Air Force Public Affairs
U.S. Air Force photos by Eric Dietrich
You can skip to the end and leave a response. Pinging is currently not allowed.