Several years ago, I was lucky enough to inherit a small off-grid cabin. After making an outhouse and rainwater harvesting system for it, electricity was the next task on the list. 
I ultimately decided to use a power station for the cabin. Here's what I've learned about choosing a power station for off-grid living and my picks for the best power stations. 
Key Considerations:
We recommend you choose a power station with the following features
1,000Wh to 2,000Wh of battery capacity – offers the best balance between portability and capacity
LiFePO4 battery – for fast recharging
High max input – for faster solar charging
High surge power – for tools and appliances
---
Quick Picks
Top Power Stations for Off-Grid Properties
Other great power stations are out there, but these were specifically chosen for off-grid properties. They all have roughly 1000 to 2000Wh of capacity, LiFePO4 battery technology, and support charging/discharging simultaneously (pass-through).
Our Top Pick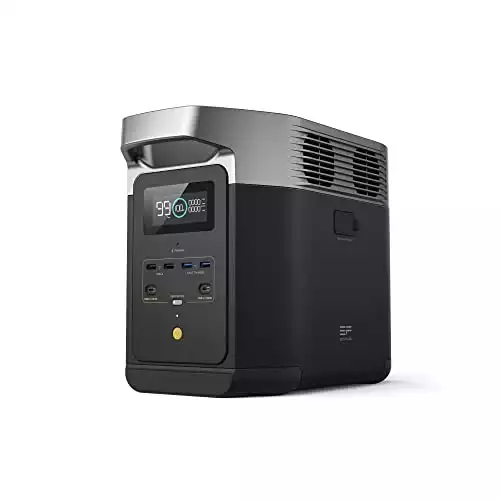 EcoFlow Delta 2
Specs:
Capacity: 1024Wh
Continuous power: 1800W
Surge power: 2700W
Outlets: 15
Max solar input: 500W
Expandable: Yes
Time to recharge: 0-80% in 50 minutes with AC
Retains 80% capacity to: 3000 cycles
Quick Review:
The EcoFlow Delta 2 is frequently mentioned as one of the best power stations for a good reason. It is very user-friendly, has many outlets, and is lighter than other power stations in its class. The 1024Wh capacity is good for most off-grid cabin needs and is expandable if you need more power. It also supports a higher max solar input than other power stations in its class.
Pros:
Expandable
High max solar input for its class
Quieter than most other power stations
Recharges quickly
Cons:
Only 3,000 instead of 3,500 cycles to 80%
Handle is kind of awkward
Best 2000Wh Power Station

ECOFLOW DELTA 2 Max
Specs:
Capacity: 2048Wh
Continuous power: 2400W
Surge power: 4800W
Outlets: 15
Max solar input: 1000W
Expandable: Yes
Time to recharge: 0-80% in 1.1 hour with AC
Retains 80% capacity to: 3000 cycles
Quick Review:
The Delta 2 Max has twice the capacity as the Delta 2 model. It also is expandable by two batteries, so you can have up to 6,000 watt-hours of power storage. When you calculate the cost per watt hour, the setup is a very good deal.
Like with all EcoFlow power stations, it charges very quickly. It only takes a bit more than an hour to completely recharge with AC. A cool feature is that you can charge with both AC and solar simultaneously (which is not the case with the Delta 2 model).
My main gripe with the Delta 2 Max is that it is 50 lbs yet not on wheels. The awkward handle makes it especially difficult to carry or lift. You'll want to get yourself a cart for it or keep it in one spot.
Pros:
Lightweight for its class
Expandable by up to 2 batteries
AC and solar charging at the same time
Fast recharging
X-Boost mode for up to 3400 watts of power
Good price per watt-hour
Cons:
Only 3,000 instead of 3,500 cycles to 80%
Heavy, awkward to carry and not on wheels
Best Budget Pick

DEENO Portable Power Station 1500W
Specs:
Capacity: 1036Wh
Continuous power: 1500W
Surge power: 3000W
Outlets: 12
Max solar input: 200W
Expandable: No
Time to recharge: 0-100% in 6 hours with AC
Retains 80% capacity to: 3500 cycles
Quick Review:
I have the Deeno X1500 power station because the brand sent me one to try. As a new brand, they try to stand out with low prices. It does take much longer to recharge than other power stations, though and has a low max solar input.
Besides the price, the best thing about the Deeno X1500 is that it's QUIET. Unlike other power stations, which have fans continuously running, the Deeno fans only kick on during high loads or when the temperature gets high.  
Pros:
High surge power
Long lifespan
Good value
Quiet fans
Cons:
Brand reputation not well established
Takes a long time to recharge
Low max solar input
Best for Very High Power Needs

Jackery Explorer 2000 Plus
Specs:
Capacity: 2042Wh
Continuous power: 3000W
Surge power: 6000W
Outlets: 10
Max solar input: 1400W
Expandable: Yes
Time to recharge: 0-80% in 1.1 hours with AC
Retains 70% capacity to: 4000 cycles
Quick Review:
Jackery is probably the best-known brand of power stations. I would never recommend any of their older models of power stations for off-grid cabins though; those use the older Li-ion technology and have short lifespans. However, the Jackery 2000Plus uses LiFePO4 technology, so has a lifespan of 4,000 cycles to 70%.
This model was designed to handle huge power needs. It has a continuous power of 3,000W and can handle 6,000W in surge. The best feature is that it's expandable by up to 5 batteries (most power stations are expandable by just 1 or 2 batteries). You can get up to 24,000 watt-hours of power – which should cover all of your cabin's power needs. The downside is that the power station and expansion batteries are expensive per watt hour.
Pros
Expandable by up to 5 batteries for up to 24,000Wh
Very high continuous and surge power
Supports up to 1400W in solar input
Is on wheels
Quiet operation
Cons
Price
Very heavy
Only 10 outlets
Best for Outdoor Use

Anker PowerHouse 767
Specs:
Capacity: 2048Wh
Continuous power: 2400W
Surge power: 3600W
Outlets: 12
Max solar input: 1000W
Expandable: Yes
Time to recharge: 0-80% in 1.4 hours with AC
Retains 80% capacity to: 3000 cycles
Quick Review:
I like the brand Anker because their products are very well thought-out. The 767 power station is no exception. It is very rugged and can withstand some abuse. The wheels even have good traction so you can lug it around your cabin property.
The downside is that the Anker 767 doesn't have as high power output or surge power as the other 2000Wh power stations here. It is also only expandable by one extra battery. So, I'm not sure whether it's worth choosing this one because it's on wheels.  
Pros:
Supports up to 1000W solar input
Rugged design and on wheels
Brand has an outstanding reputation
Cons:
Low surge power for its class
Only expandable by one battery
Higher price per watt hour
Best Battery Lifespan

BLUETTI AC200MAX
Specs:
Capacity: 2048Wh
Continuous power: 2000W
Surge power: 4800
Outlets: 17
Max solar input: 700W
Expandable: No
Time to recharge: 0-100% in 6 hours with AC
Retains 80% capacity to: 3500 cycles
Quick Review:
Bluetti is another brand that often gets mentioned with the best power stations. They sent me their EB70 power station for free to try (read the review here). While I liked it, it was very loud – and their AC200 Max has the same problem. It isn't as good as the competition regarding max solar power, continuous power, or recharging speed. The AC200 Max model also isn't expandable.
However, Bluetti does win in one key aspect: lifespan. Their power stations retain 80% capacity after 3,500 cycles (instead of just 3,000 like with EcoFlow). If you care more about lifespan than recharging speed or quiet operation, then the AC200 Max is a good option. 
Pros:
Long lifespan
Charge with AC and solar at the same time
Lots of outlets
Brand known for quality
Cons:
Loud fans
Only 700W max solar input
Not expandable
Customer support notoriously bad
Very long recharge time
---
How to Choose a Power Station for Your Off Grid Property
Instead of rehashing the main features of all power stations, I want to focus on the features which really matter for off-grid living. 
Battery Type
Only choose a power station with the newer LiFePO4 battery technology for an off-grid property. The reason is that LiFePO4 batteries have a much longer lifespan.  
Where regular lithium batteries have a lifespan of about 500 to 800 charge cycles, a LiFePO4 can handle 3500+ charge cycles before dropping below 80% total capacity.
The downside is that LiFePO4 power stations are pricier than those that use older lithium-ion batteries. But, when you factor in longevity, it becomes much cheaper.
Max Input
Pay attention to the maximum input of the power station. Many of the smaller, cheaper power stations only have an input of 200W. This means you can only use it with solar panels up to 200W… which means that your power station will take hours (or days!) to recharge. Aim to have a max input of at least 500W to recharge faster with solar.
Recharging Speed
How quickly your power station recharges is important, especially if you have high power needs, small solar panels, or not a lot of sunlight. Most of the power stations here recharge at fairly similar rates. The exception is EcoFlow power stations which use quick recharge technology.
High Surge Power
Most 1000Wh power stations can deliver around 1200-1800 watts of energy at once (aka continuous power). I've never come close to needing that much energy at once at my off-grid cabin! I think I'd have to plug in everything I have there.
So, unless you know you'll need to run many appliances simultaneously, I wouldn't worry about continuous power much.
However, I would pay attention to surge power. This is the amount of energy the power station can handle for a short time. Appliances that use motors often need 3x their wattage just to get going.   (If you have a 500-watt appliance, it might require 1500 watts to turn on.)  
You will probably use a lot of motorized appliances and tools in your off-grid cabin, so having a higher surge power is very useful. Aim to have at least 2000 watts of surge power, if not closer to 3000 watts.
Scalability
Some larger power stations allow you to chain the unit to additional expansion batteries. Because the extra battery doesn't need tech like a charge controller, the other battery is cheaper than buying a completely new unit. So, you get to expand your capacity for a lower cost.
No Automatic DC or USB Shutoff
Almost all power stations have automatic shutoff: they turn off if there is no power draw for a certain time. While this is good for AC ports, you do NOT want automatic shutoff on the USB or DC ports. 
Otherwise, the power station would shut off when you use devices that don't constantly draw power, such as a fridge. Luckily, the good brands of power stations know this and don't have auto-shutoff on DC or USB ports.
Weight and Portability
You will probably need to move your power station around your cabin and property fairly often. Like when you need to take it outside to use with power tools. Or move it into your vehicle to recharge while driving. I often take my power station under my favorite tree to work outdoors.
Bear in mind that a 1000Wh power station will weigh around 30lbs to 40lbs. A 2000Wh power station is going to weigh around 60 lbs. That's heavy enough to hurt your back! You will need to buy a little cart for a power station this large or choose a model which comes on wheels – and even then, it may be difficult to move over bumpy terrain, and you'll still have to lift it over stairs or into your vehicle.
Two Small-Capacity Power Stations or One Large-Capacity Power Station?
For my off-grid cabin, I've found having two smaller power stations more practical than one massive one. Not only is it easier to move the power stations to where I need them, but I can also charge one with solar outdoors while using the other indoors.  
However, buying two power stations is always more expensive (especially when you calculate the price per watt-hour!). So, if you want to get one larger power station, plan your cabin's "energy center" well so you don't have to move the unit. Like making sure all your lights, tools, etc., operate on rechargeable batteries and any appliances which use AC outlets are kept near the power station.
How Much Capacity for Off-Grid Cabin?
I find that approximately a 1000-watt hours power station is a good sweet spot for off-grid living. Assuming that you lead a minimalist lifestyle, 1000Wh is enough to meet most power needs while still being portable and not costing a fortune.
Of course, the only real way to know how much capacity you need is to tally up your energy requirements. If you need to run a 10W device, it will (theoretically) last 100 hours on a 1000Wh power station.
How Will You Recharge Your Power Station while Off-Grid? 
The more often you can recharge your power station, the less capacity you need. So make sure your budget also includes a charging method for the power station. 
These are some good ways to recharge a power station while living off grid:
Solar panels: With off-grid cabins, solar is usually the go-to charging method. But I probably don't have to tell you solar is notoriously unreliable, and panel quality matters. Ensure you budget enough for quality solar panels at least 200 watts (500 is better).
Your vehicle:  If you drive frequently, then this is a good option. Each time you go somewhere, put your power station in your vehicle and charge it from the DC cigarette port.   
Gas or diesel generator: Even if you get the best power station in the world, you will probably still want a traditional propane generator for your off-grid cabin. It's simply more reliable. You can use it to charge your power station outdoors, so you don't have to worry about running cables from the generator into your cabin or risk CO poisoning. 
Micro wind turbine: Small wind turbines are still far from ideal. I have a friend who uses them, and they are very loud. They also need to be serviced frequently. However, it's not a terrible option as a backup, especially if you don't drive often.
Do You Want to Run a 12V Fridge on Your Power Station?
A refrigerator is the most complicated power need to calculate. This is because refrigerators don't run constantly: they only draw power when cooling. How often they are in cooling mode depends on the ambient temperature.
On a summer day, a well-insulated 45L 12V fridge might run for two full days before draining a 1000Wh power station. In colder weather, though, the same power station might run the fridge for a week before it dies.
Read more about running a refrigerator on a generator
My recommendation? Invest in an off grid propane refrigerator. It's a lot better to use propane than risk the contents of your fridge going bad. Otherwise, you are going to need a much larger-capacity power station for your off-grid cabin (at least 2000Wh) and a larger solar setup. Those costs might end up being the same as a secondhand propane fridge!
Power Stations for Off-Grid Cabins vs. Disaster Prepping?
Power stations for disaster prepping only need to be used occasionally and for shorter periods of time. By contrast, power stations for off-grid cabins will be used regularly and for extended periods of time.
Because of this, features like LiFePO4 battery technology, high surge power, a high max input, and quick recharging are more important when choosing a power station for off-grid cabins. You'll also probably want a more portable power station because you will be moving it around your property so often.
Vs. Power Stations for Off-Grid Vans?
When choosing a power station for an off-grid van, you can get away with less capacity. This is because you will likely be recharging the power station more frequently while driving. With off-grid cabins, you'll probably need at least 1000Wh of capacity.