ATLANTA  –  
U.S. Army Reserve Sgt. Maria Henderson, assigned to the 300th Mobile Public Affairs Detachment, recognized as the valedictorian and earned the "top shot" title in her Atlanta police academy class during an Atlanta Police Department private swearing-in ceremony on the Atlanta Metropolitan State College campus.
Henderson, the first female recruit in APD history to earn both titles for best performance, hopes to be an inspiration for other recruits, particularly women, and encourages others to consider a life of service.
"I wanted to become a police officer to help people," Henderson said. "When I would see police officers in my community, I could always see myself doing that job. I knew it would be something that would really fulfill me, give me purpose… to go out and help the community and touch lives every day."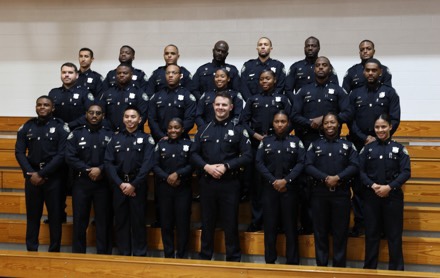 She, along with 20 of her peers from Atlanta Police Academy Class 276, were issued their badges following the ceremony and will now begin six weeks of field training working alongside experienced partners in the force, and a formal graduation ceremony will be held in the spring.
Henderson, who has served in the U.S. Army Reserve for eight years, is no stranger to rigorous training. She credits her success at the academy in large part to her military experience and the discipline she learned from being a Soldier.
"I'm incredibly honored," said Henderson. "I've always wanted to serve, and this is incredibly fulfilling for me."
She added that she is proud to now serve both her local community and her country.
The Atlanta Police Academy program tests recruits both mentally and physically during 900 classroom hours and 12 weeks of fieldwork prior to graduation.
City of Atlanta Police Department Recruit Unit Supervisor Sgt. Courtney Murphy praised Henderson's talent and work ethic.
"She is determined, she always wants to achieve and be the best at everything," said Murphy. "She is very nice; she is very kind– and she is a leader among the recruits in her class."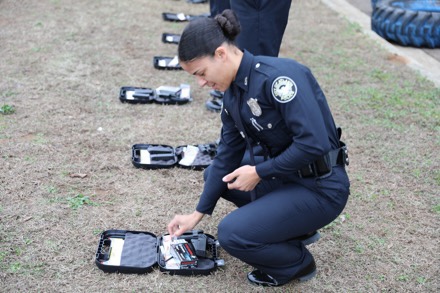 Murphy said Henderson's military training paid off at the academy.
"It's definitely a good foundation to have when you are coming into a paramilitary environment like the police academy," Murphy said. "It gave her an outlook a lot of other recruits didn't have. She understood our structure, our ranking… and she understood what we needed her to do often before we told her."
"She is a really hard worker. She stays late, she comes early… she keeps everybody together," Murphy added. "She is amazing."
Murphy, a female officer herself, said being a woman on the force would be a challenging but a worthwhile opportunity.
"You always feel like you have to prove yourself more, you have to show that you can do the job," said Murphy. "I have no doubt Henderson will move up.
"I am very confident in her abilities," Murphy added. "I hope that she always remembers her foundations— and the women that came before her."
Henderson will soon be out in the community serving as what she called part of a "new generation of police officers."
"Now that I am a sworn police officer I would like to go out in my community and help change people's perspectives," explained Henderson. "We are people, too, and we really do want to be the change we want to see out there. That is what I want to put out into the world."
-By SSG Elizabeth Bryson 300th Mobile Public Affairs Detachment
You can skip to the end and leave a response. Pinging is currently not allowed.