More and more people are looking to take charge of their own food preservation, and freeze-drying has become a leading method. Originally used to preserve biological samples and pharmaceuticals, freeze dryers have now evolved into the most effective way to preserve food. 
Able to preserve 90%–95% of essential nutrients, freeze-drying is a much healthier option than dehydrating or canning. So, if you want to start preserving large amounts of food with one of the best freeze dryers on the market, you've come to the right place. 
Freeze dryers aren't cheap. They're definitely an investment. So I've researched and reviewed the leading freeze dryers — and sorted through the hype — so you can invest in one knowing all the facts.
Reviews of the Best Home Freeze Dryers
Best Overall

Stay Fresh Freeze Dryer with Standard Pump
Capacity: Approx. 3 gallons | Dimensions: 20″ W x 26″ D x 31″ H | Weight: 161 lbs.
Stay Fresh is currently one of the few competitors capable of giving Harvest Right a run for its money, but it only has one size available — so far. This machine is the perfect option for anyone seeking a dependable and reliable freeze dryer for home food storage.
Stay Fresh focuses on solid quality control and inspects each unit for its freezing, vacuuming, and heating abilities before shipping. 
This machine receives lots of bragging rights for its ability to maintain a steady mTorr rating (measurement of vacuum pressure) without an abundance of spikes (fluctuations in the vacuum pressure), unlike competitor brands. 
With temperatures as low as -50°, this machine can freeze-dry up to 12 pounds of food in as little as 30 hours. 
Stay Fresh offers basic options for beginners that allow you to run a preprogrammed algorithm with the press of a few buttons. There's even a pre-programmed candy mode if you're into freeze-dried candy. 
There's also an advanced option that allows users to set their own processing times for the best yield in production. The machine itself has a super responsive touchscreen with ample customization opportunities and simple step-by-step controls. The display even shows how much time is left in the process.
The Stay Fresh freeze dryer comes with four trays, but you can add additional trays to your purchase. This unit can easily sit on a countertop but does require space for the external pump. 
While the standard pump provides 7.2 cubic feet of air per minute (CFM), you can upgrade to a 10 CFM industrial-strength pump, which is slightly larger. The industrial pump is much quieter compared to any of the Harvest Right versions and cools down super fast. 
With the industrial upgrade, this unit is quiet enough to operate in apartments and small condos without disturbing your neighbors.
Another reason to consider the industrial pump is that it allows for 40 batches before the oil has to be changed, compared to five for the standard pump.
Stay Fresh Freeze Dryers require a 110V 15-amp outlet that must be within five feet of the machine.
Your purchase comes with the necessary equipment to get started, including an oil filter, an impulse sealer, and 50 mylar bags.
Unfortunately, these freeze dryers have become so popular since their release that there is an 8–10 week waiting period. 
Stay Fresh is only about a year old, so it's still a fairly new company, but it's come out of the gate strong and offers a dependable alternative to Harvest Right machines if you have the patience to wait.
So far, Stay Fresh freeze dryers are excelling in all the right areas and rumor has it the company is working on a larger size, which will bring even more competition to the field. Stay Fresh even offers a financing plan to help get you started.
Pros:
Excellent quality control

Simple user interface

Competitively priced

Functions on 15 amps

Pump upgrade available

Financing

Free shipping to contiguous US
Cons:
8–10 week wait period

Slightly more expensive than Harvest Fresh

Only one size
Best Medium Size Dryer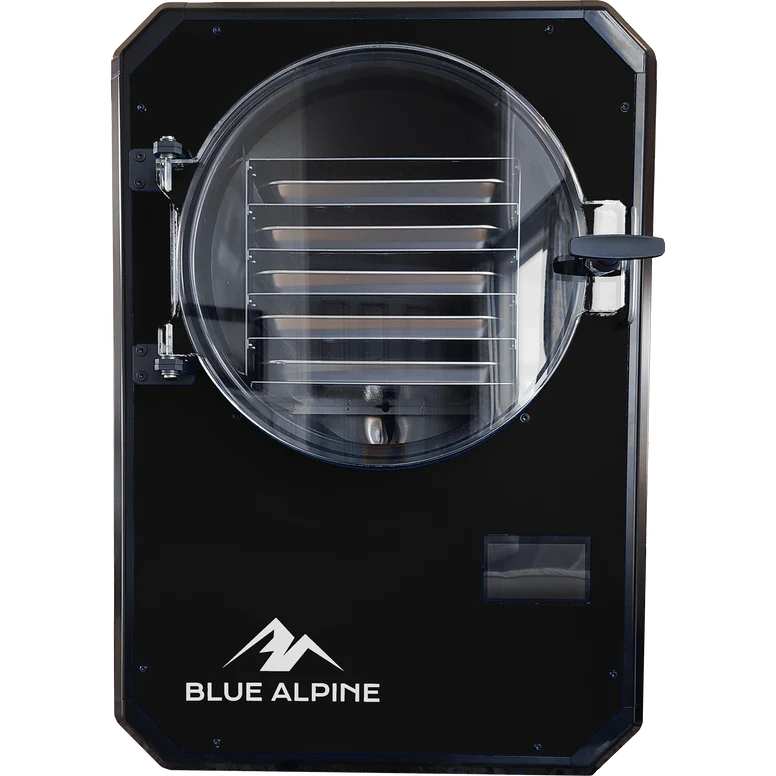 Medium Freeze Dryer – Blue Alpine
Capacity: 15 lbs. | Dimensions: 20″ W x 21″ D x 30″ H | Weight: 110 lbs.
I'd be remiss if I didn't mention this up-and-coming new kid on the block. Blue Alpine is a new company manufacturing freeze dryers in Idaho with everything made in-house, and I must confess I'm very excited about this company. 
Specifically addressing all of the shortcomings of its competitors, Blue Alpine freeze dryers use top-notch thread sealants to eliminate vacuum leaks. They also address the common feed-through leaks, which can limit the attainable vacuum level. 
Did I mention its freeze dryers come with a stylish blue option?
One of the great selling features of Blue Alpine is the simplicity of its design. They feature standard 9×13 trays, meaning you can use any traditional baking sheet out of your kitchen. It also comes with five trays and five silicone mats. 
Plus you get the usual start-up equipment:
Impulse sealer
Premium vacuum pump + oil
50 mylar bags 
50 oxygen absorbers 
Currently, Blue Alpine only offers a medium-sized unit, which it claims is about 25% larger than comparables. It's also currently working on a larger unit that's available for preorder now. You can also take advantage of a layaway plan.
Blue Alpine freeze dryers utilize above-average electronics that far supersede industry standards so you won't have to worry about replacing relay panels. Additionally, the built-in software provides programmed recipes, making things super easy for the new user and eliminating the need for guesswork. You can also customize and edit personal recipes. 
For all you freeze-dried candy lovers, Blue Alpine touts it can do a batch of Skittles in as little as an hour, whereas most brands require up to 24 hours.
Furthermore, unlike competitors, these machines utilize a P100 filter in the back of the chamber to filter out any food contaminants up to .3 microns, which will prevent those particles from entering your vacuum pump.
All of Blue Alpines' basic parts, including trays, hoses, clamps, and even the P100 filter, can be purchased at your local Walmart or hardware store, making it extremely easy to keep your machine in tip-top shape. 
These units operate with a 120v plug on a 15-amp breaker. They utilize an 8 CFM double-stage rotary vane pump that can also be used with Harvest Right machines.
Sadly, these units are flying off the shelves like hotcakes and are currently on backorder with a waiting time of 3–4 months. If it weren't for this simple fact, they'd be at the top of the list. 
If you aren't in a hurry, this machine is well worth the wait. Blue Alpine even offers a 2–12 month payment plan to fit your budget. 
Pros:
Great pricing

No leaks

Programmable

Added filter

Easy maintenance
Cons:
Mediums on backorder

Larges on preorder

New company
Best Small Freeze Dryer

Harvest Right Small Freeze Dryer
Capacity: 1 ½–2 gallons | Dimensions: 17.4″ W x 21.5″ D x 26.8″ H | Weight: 91 lbs.
At 91 lbs, this is the smallest and most affordable option that Harvest Right makes. In addition to the freeze dryer itself, you also get an industrial vacuum pump with an oil filter and oil. It's small enough to sit on a countertop, but you'll need to have plenty of extra space for the external vacuum pump and drain hose. 
This small unit is likely more than sufficient enough for most people since it allows you to freeze-dry up to 1100 lbs. of food each year.
It's a good option for those in smaller dwellings, such as condos or apartments, or those with smaller families that don't have large food-storage needs. It's a suitable entry-level freeze dryer for first-time users or less frequent users and offers the cheapest entry point.
However, do be mindful of the noise in smaller environments. It's quite loud.
It is, however, the only unit that's simple enough to use nothing more than a standard 110-wall outlet.
This freeze dryer has four stainless steel trays and can hold up to seven pounds of food at a time allowing you to preserve fresh summer produce, bargain buys, or small batches of candy.
With temperatures as low as -30 to -40 degrees, it can take anywhere from 20-40 hours to fully freeze-dry your food, which meets industry standards
Following each use, the machine requires defrosting, as do all freeze dryers. While you can install an outside drain, most users simply place a bucket underneath the drain hose.
Otherwise, the only maintenance involves changing the oil every two to five uses, so your freeze dryer continues to run at maximum efficiency. 
Harvest Right also sends you all the necessary equipment you need to get started, which allows you to freeze-dry several batches before needing to reorder supplies:
Guide to freeze-drying

50 mylar bags 

50 oxygen absorbers

Impulse sealer

Oil filter

Oil
This small freeze dryer is an affordable option. Just keep in mind that Harvest Right machines, in general, are prone to vacuum seal leaks, unresponsive touch screens, and faulty relay boards, and its customer service has a bad reputation. 
If you're so inclined, there are plenty of fixes floating around the internet to address many of the malfunctions that may occur. But be advised that doing so could void your warranty.
Pros:
Small

Comes with starting equipment

Low maintenance

Affordable

Runs on standard wall outlet

Free shipping to contiguous US
Cons:
Limited capacity

Warranty issues

Prone to vacuum seal leaks and faulty relays

Poor customer service
Best Medium Size: Harvest Right Medium Freeze Dryer
Capacity: 13 lbs. | Dimensions: 19″ W x 25″ D x 29″ H | Weight: 119 lbs.
This medium size air dryer is a better option if you're into homesteading, farming, or gardening and looking for viable options to preserve annual harvests. 
Medium-size freeze dryers are also good options if you're looking to substitute your income. Freeze-dried candy and organically freeze-dried meals are huge hits around trade and crafts shows and local farmer's markets. 
Although the Harvest Right Medium Home Freeze Dryer is a bit heavier than its smaller cousin, at 119 lbs, it's still small enough to sit on a countertop. Plus, you get an extra tray, increasing your surface area for food. 
As with almost all freeze dryers, you also need the available space for the external pump and drain hose. 
Although Harvest Right advertises its pumps are "efficient in all temperature ranges," many experienced users claim that these pumps struggle in hotter conditions and should be placed in environments that can maintain 72 degrees or cooler.
Because of the power draw on the medium-sized units, it's also highly recommended that you have a dedicated 20-amp circuit. This means the plug your freeze dryer is plugged into should have its own circuit breaker. Otherwise, you'll constantly be tripping your breaker. 
For the additional $600 from the small to medium unit, you get all the same starting equipment, plus the additional tray giving you 1 ½ gallons more capacity than the smaller version, allowing you to preserve up to 1600 pounds of food each year.
If you do choose Harvest Right, your best bet is to stick with the standard oil pump instead of upgrading to the oilless. The oilless pumps are a significant factor in Harvest Right's declining reputation and simply aren't worth the added $1,500 expense. 
Harvest Right does offer a layaway program that allows you to pay as much as you want when you want with no interest. All you have to do is provide a $250 down payment to lock in your price.
If you can get past Harvest Right's reputation, this could be a decent, cost-effective, medium-sized freeze dryer, and has been for many.
Pros:
Fits on countertop
Larger capacity
Additional tray
Low maintenance
Free shipping to contiguous US
Comes in white as well
Cons:
Recommended 20-amp circuit
Known malfunction issues
---
Best Large: Harvest Right Large Home Freeze Dryer
Capacity: 4–6 gallons | Dimensions: 21.3″ W x 27.5″ D x 31.3″ H | Weight: 143 lbs.
To my knowledge, Harvest Right remains the only company to offer a large freeze dryer. However, unless you use your freeze dryer as a primary means of income, the average person won't have the resources or time to freeze-dry 3000 pounds of food a year.
On the other hand, if you're in need of a machine that runs every day at full capacity, then the Harvest Right Large Home Freeze Dryer is your best option — because it's your only option.
Just know that the added power draw requires a NEMA 5-20 outlet and a dedicated 20 amp circuit.
It gives you six trays, allowing you to freeze-dry up to 23 pounds of food per batch. Plus, it comes with all the same starting equipment as the small and medium versions. 
Like the medium version, you get three color options: white, black, or gray. This Large Freeze Dryer also comes with a much heftier price tag.
Weighing 143 pounds, the large Harvest Right Home Freeze Dryer is substantially larger than the others and won't fit on a standard countertop without hanging over the edge. Although it is doable. 
As with the other Harvest Right machines, the layaway option and three-year limited warranty are available. 
Pros:
23 lbs/6 gal capacity
Affordable price
Layaway option
Cons:
Requires dedicated 20-amp circuit
Requires NEMA 5-20 outlet 
Won't fit on the counter
Known warranty issues
---
Buyer's Guide
Aside from which freeze dryer to choose, there are many other factors to consider before purchasing one. Exercising your due diligence now ensures you purchase a machine that will meet your needs and justify its cost. 
Placement
Before deciding on your purchase, consider the placement of your freeze dryer. The vacuum pumps typically run at temperatures up to 160° F, so you need a well-ventilated area. 
Experienced users indicate that for these machines to function properly, they require a temperature setting of 72 degrees or cooler. Any hotter and they lose the ability to cool themselves, which causes the freeze dryer to fail. 
In most cases, you'll also need additional space for your pump, drain hose, and bucket. After every cycle, you have to defrost and drain the machine, so you'll want plenty of working space and maneuverability. 
Additionally, at least with the Harvest Right machines, you cannot use surge protectors or GFI (ground fault interrupter) outlets. 
Size and Weight
The size and weight of your machine should be proportional to where you intend to place it. Typically, installing your freeze dryer requires two people since these machines can weigh more than 150 lbs. 
Most freeze dryers are installed on countertops or carts to allow them to drain properly, so make sure your chosen support mechanism can bear the weight of your machine.
Price
No doubt all freeze dryers are expensive, but some are more expensive than others. Some companies offer payment plans, layaway plans, or other pay-as-you-go plans. 
However, you should always budget within your means. There's no reason to pay more for a larger freeze dryer if you don't really need it. 
Evaluate the amount of food you want to freeze-dry and crunch some numbers before making a final purchase so you're not buying extra capacity you'll never use.
We've looked at the numbers here – How much does a freeze dryer cost?
Capacity
Consider your purpose for freeze-drying to guide your decision. For casual food storage, a small freeze dryer is usually more than sufficient. 
On the other hand, if you have a garden full of produce to freeze-dry, you'll need something large enough to process your food in a timely manner. Look at the capacity of the machine to see how much food it holds, and then do the math.
For example, if you have a bushel of tomatoes that weighs 50 pounds, and your machine can only handle 10 pounds of food at a time, that's five cycles. If one cycle takes approximately 30 hours, that's almost a whole week to process a bushel. And that doesn't include your defrost times between batches. 
If you're using your freeze dryer for supplemental income or a full-fledged business, you'll have to align the freeze dryer's abilities with your goals.
Noise
Know ahead of time freeze dryers can be quite loud, which might not be ideal for everyone. Depending on your living environment and where you place your freeze dryer, this warrants significant consideration.
Electrical Requirements
Make sure you have adequate electrical means to support the freeze dryer you want. While the small machine can work with a 110, the medium sizes typically require a dedicated circuit, while the large ones require the NEMA 5/20. 
Also, remember you shouldn't use GFI plugs, so you'll need to make sure you have a non-GFI socket available in the vicinity you want to place your machine.
Once you've decided where you will rest your machine, do a comprehensive overview to ensure your space can accommodate the necessary electrical requirements of the freeze dryer.
If not, you may need to contact an electrician for assistance.
Choosing the Right Pump
Harvest Right, in particular, offers customers the option to upgrade to an oilless, "maintenance-free" pump to the tune of $1,500. However, reviews show many owners who opted for this upgrade regretted doing so down the road. 
The oil in regular pumps creates a seal in your pump to protect it from acidic moisture that siphons through the pump as it pulls air out of the food chamber. 
Harvest Right consumers often upgrade to oilless because the standard oil pumps frequently emit an oil mist. However, this oil mist is usually a sign of a vacuum leak and not a pump issue at all.
Unfortunately, these oilless pumps are not as efficient at creating a quality vacuum. Additionally, oilless pumps utilize a metal-on-metal seal that degrades over time as food is introduced to the pump
Unbeknownst to many, this "maintenance-free" pump also requires an evacuation process every 5000 hours to remove the moisture and debris that has accumulated inside the pump. 
By industry standards, these pumps are considered consumable and oilless pumps usually have a life span of about three years if you're lucky. These oilless pumps have become a real hot-button issue against Harvest Right and one of the leading complaints by many consumers. 
It's not that difficult or time-consuming to change the oil in the standard pump, and as long as you're vigilant in faithfully changing your oil, the pump should last five to eight years, depending on how frequently you use your machine.
As far as other pump upgrades go, many consumers attest that the Stay Fresh industrial pump is well worth the upgrade to the 10 CFM.
The only real advantage here is the 10 CFM can help you achieve a vacuum seal faster. Maintaining a vacuum requires very little CFM at all. So this is really just a personal decision of how much time you want to shave off your cycles and whether the added expense justifies the time saved. 
Conclusion
If I had to choose a freeze dryer today, I'd choose the Alpine Blue in a heartbeat. But if you can't wait three to four months for your freeze dryer, then the Stay Fresh Freeze Dryer is really the only viable option for a quality, worry-free freeze dryer.