West Palm Beach, FL. – April 10, 2023 – Paratore Enterprises, Inc, a consultancy focused on the Defense and Tactical market for U.S. and global companies is pleased to announce its partnership with the global brand, Bug Bite Thing, with its corporate headquarters in Port St. Lucie, Florida. Bug Bite Thing is an easy-to-use, lightweight, chemical-free and reusable suction tool made of medical-grade plastic that instantly alleviates the stinging, itching and swelling caused by insect bites and stings.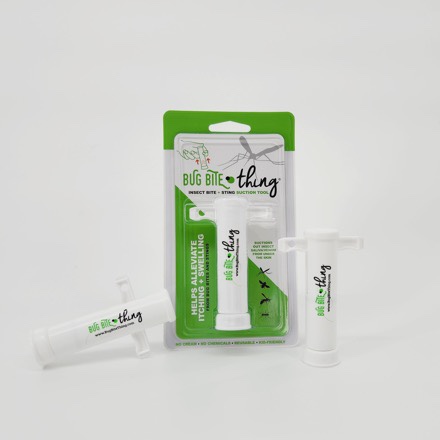 Bug Bite Thing is an essential item for any survival, trauma or military kit. Together, Paratore Enterprises and Bug Bite Thing will make the product widely available to law enforcement agencies, the U.S. military and first responders, providing their members with immediate relief from insect bites and stings while performing their professional duties.
Dalia Paratore, Founder and President of Paratore Enterprises says, "We've been searching for a product line that delivers exactly what Bug Bite Thing does. The pocket-size, lightweight suction tool can be used continuously as it's reusable and chemical-free. This product is a must-have for all law enforcement, government agencies and military branches as it provides its members with instant relief from bites and stings when performing their jobs and helping others."
Kelley Higney, Founder and CEO of Bug Bite Thing says "After providing Bug Bite Thing to the Port St. Lucie Police Department and receiving positive feedback, we recognized a need to equip those who serve our country with our product. With this partnership, members of law enforcement agencies, the U.S. military and first responders nationwide will have access to Bug Bite Thing as an effective first line of defense against insect bites and stings."
Paratore Enterprises, Inc will be showcasing the product via sales demos, targeted events and its reseller consortium, making the product easy to acquire via government contracting vehicles, such as General Services Administration (GSA) contracts.
Paratore Enterprises, Inc.'s team has over 50 years of experience in providing product, strategy and consulting in government contracting and business management for organizations in the PPE, Defense and Tactical industry, as well as retail and commercial markets. We provide know-how in government contracting vehicles, vendor relations, trade show/event tactics, Dealer of Record implementation, competitive/differentiator analysis, Sales Leadership coaching and development. We enable companies to better target their audiences, improve reach, reduce churn and improve pipeline management. Find out more at:
You can skip to the end and leave a response. Pinging is currently not allowed.