Wyoming is home to over 570,000 people, many of whom have either personally experienced or been forced to evacuate due to natural disasters.
Despite this, a significant number of Wyoming residents remain unaware of the various types of natural disasters that can affect the state.
This article will delve into the types of natural disasters that commonly occur in Wyoming, the most devastating disasters to hit the state since 2000, and provide guidelines for residents on how to prepare for such events.
Is Wyoming At Risk of Natural Disasters?
Compared to the rest of the United States, Wyoming has a low risk of natural disasters. Excluding COVID, Wyoming has had 29 disaster declarations since 2000. Of these, 7 were declared significant disasters. 
Wyoming is also sometimes hit by natural disasters, which cause more than $1 billion in damages. Since 2000, more than 26 separate $1-billion events have affected Wyoming. Most of these events were droughts or wildfires.
Worst Natural Disasters in Wyoming (Since 2000)
2012 Drought and Heat Wave: $39.3 billion in damages and 123 deaths
Summer-Fall 2018 Western Wildfires: $28.3 billion in damages and 106 deaths
2022 Western/Central Drought and Heat Wave: $22.2 billion in damages and 136 deaths
Summer-Fall 2017 Western Wildfires: $22 billion in damages and 54 deaths
Fall 2020 Western Wildfires: $18.9 billion in damages and 46 deaths
*Cost and death tolls are for the entire disaster, including in other states affected.
Most Common Natural Disasters in Wyoming
1. Earthquakes
Wyoming is one of the most seismically-active states in the USA. The state experiences thousands of earthquakes each year.
Most of these are too weak to be felt, but Wyoming does have high-magnitude earthquakes. From 1974 to 2003, there were 217 strong earthquakes in the state. Wyoming ranks #6 in the country based on the greatest magnitude quakes achieved every year.
Which Areas of Wyoming Have the Most Earthquakes?
The western part of Wyoming, particularly around Yellowstone, is the most at risk for earthquakes. This region has many active faults and is a hotspot for volcanic earthquakes. 
However, earthquakes do not always occur along exposed fault lines. Because of this, earthquakes could happen anywhere in Wyoming. Experts believe even these earthquakes could reach magnitude 6.5 or above.
Fault Lines in Wyoming
Wyoming has many faults which are capable of earthquakes of magnitude 7.2 or above. The major ones are:
Teton fault
Star Valley fault
Greys River fault
Rock Creek fault
Bear River fault
Stagner Creek fault
South Granite Mountains fault
Chicken Springs fault
In addition to these major faults, many deeply-buried faults and suspected faults in Wyoming haven't been mapped or studied in detail. 
Wyoming also has earthquakes from volcanism. As plates move over volcanic hot spots, such as the Yellowstone area, the earth's lithosphere can bend and trigger earthquakes. Some earthquakes in Wyoming occur because of manmade events, such as mining activity.
Worst Earthquakes in Wyoming
The worst earthquake in Wyoming in modern times was the 1959 Hebgen Lake Earthquake. With a magnitude of 7.5, it is one of the largest earthquakes ever in the continental USA. The earthquake also produced many strong aftershocks.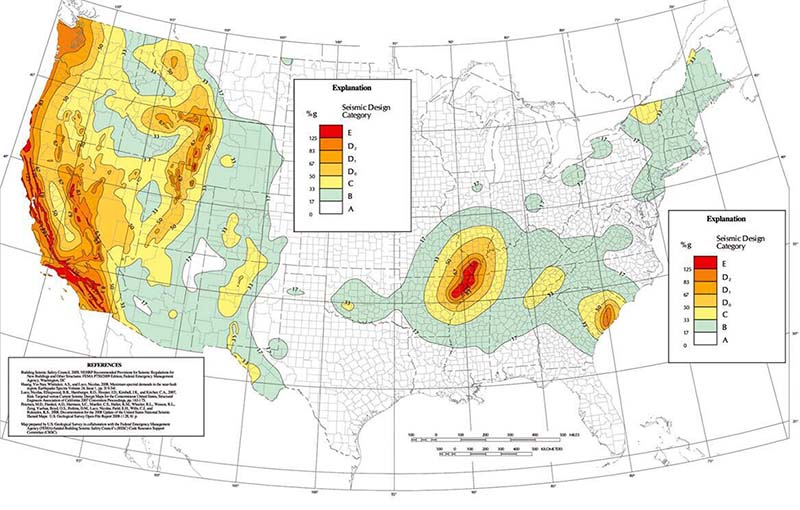 2. Heavy Snowfall and Winter Storms
Wyoming ranks #9 in the country for the most snowfall and snowfall days per year. It is also one of the most at-risk states for blizzards. The southeastern part of Wyoming has an average of 17 to 25 blizzards per 1000 square km (386 square miles).
Considering the amount of snowfall that Wyoming gets, it is not surprising that vehicle accidents are common in winter. The state is also very remote, so roads can take a long time to be cleared of snow.
With 34.1 fatalities per 1 million drivers, Wyoming is the worst state in the country for fatal winter accidents. A separate analysis that factored in vehicle miles traveled ranks Wyoming as #2 for most dangerous states for winter driving.
Wyoming Winter Weather Stats
Average snowfall per year: 51"
Snowfall days per year: 63 days
Coldest recorded temperature: -66°F in Riverside R.S. in 1996
Record snowfall: 34" at Bechler River Ranger Station in 1933
3. Heat Waves and Droughts
Wyoming doesn't have many of what the National Weather Service calls "dangerous heat days": days where the heat index is 103F. However, that doesn't mean Wyoming isn't at risk of high temperatures. Over the next few decades, the "Local Hot Days" risk in Wyoming is expected to increase. 
Local Hot Days are "Days at or above the 98th percentile temperature, or the temperature that an area could expect to see on the hottest 7 days of the year."  Essentially, Local Hot Days factor in what temperatures a local population is used to experiencing.  
Since many people in Wyoming don't have air conditioning, increased temperatures – even when they aren't considered "dangerous" – can have severe implications. Health problems like strokes increase, and heat-related deaths are more likely to occur. 
All parts of Wyoming are expected to see more Local Hot Days over the next few decades. However, Platte County is particularly at risk. In 2053, Platte County can expect to see 19 consecutive days of temperatures at or above 92.8F.
Droughts in Wyoming often accompany heat waves. As an agricultural state, droughts can significantly affect the economy. They also put more strain on the state's already-scarce water resources and increase the risk of wildfires.
4. Flooding
Despite being one of the most drought-stricken and driest states, Wyoming is still at risk for flood disasters. While river flooding does occur in the state, most floods in Wyoming are flash floods.  
Flash floods primarily occur when heavy rains fall on steep terrain, and the dry soil can't absorb the water fast enough. Wyoming frequently has wildfires, and when it rains on burnt areas, there can be flash floods or mudslides. Ice jams breaking up, levee breaches, and dam failures can also cause flash floods in Wyoming.
Wyoming Flood Stats
35,200 properties at substantial risk in 2020
61,200 properties at risk by 2050
37,200 properties at significant risk by 2050
4,000 properties at almost certain risk by 2050
900 FEMA flood damage claims since 2000
Which Areas of Wyoming Are Most At-Risk to Flooding?
Floods can occur in all parts of Wyoming, but some areas of the state are particularly at-risk. Below are the areas of Wyoming with the greatest percentage of properties likely to experience flooding (based on 2020 calculations). 
Jackson: 34%
Lander: 27%
Mills: 27%
Sheridan: 25%
Laramie: 25%
Torrington: 24%
Rawlins: 22%
Rock Springs: 22%
Casper: 19%
Because of climate change, the risk of flooding is increasing in many parts of Wyoming. By 2050, an estimated 11.1% of all properties in the state will be at substantial risk of flooding. 
5. Hail
Wyoming is located in "Hail Alley," a region in the United States known for having a high frequency of hail storms. From 2018 to 2021, Wyoming averaged 124 hail events per year. In terms of damages per capita from hail, Wyoming ranks #13 in the country.