MDM 23 – Shaw Concepts USURPER Belt System
The USURPER Belt System from Shaw Concepts is a completely new look at war belts.
It is a two-belt system, but unlike anything else on the market. The stand alone inner belt is foam lined, surrounded by soft loop Velcro. This makes it more comfortable, with no sharp edges and can be worn as a uniform belt. Although it includes a D-Ring COBRA ProStyle 18kN Buckle, the belt is not currently rated for life support use. The buckle is included for its easy of use. The inner belt is also narrower at the buckle and becomes wider as it reaches the first belt loops on either side.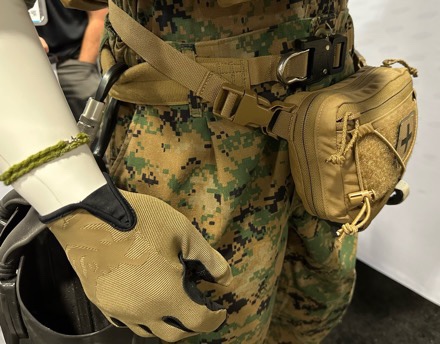 While the inert belt concentrates on comfort, the outer belt provides the structure to the system. It is lined with Velcro hook and locks up with the inner belt. It is held in place on either side via G-hooks. Additionally, areas at the front on either side are reinforced with Tegris.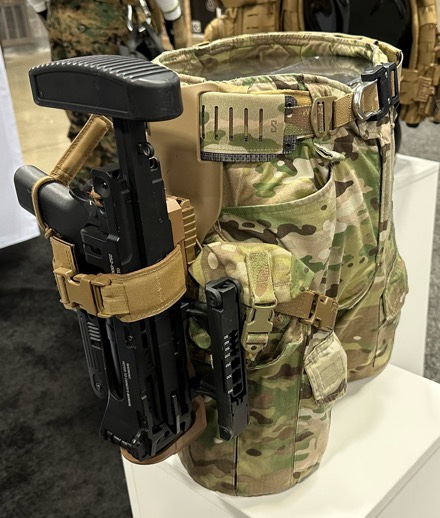 At the weak side, there are angled PALS slots to cant your magazine pouches for easier access. Because of this feature, it is offered in right and left hand versions. There is also a carabiner attachment point incorporated into this panel. On the strong side is a setup for pistol mounting. In these photos, they've mounted an M320.
Along the top of the outer belt are three mounting points for suspenders. According to founder Hithem Shaw, he has designs on the drawing board but until that happens, there are quite a few options available from other manufacturers.
Additionally, they have incorporated PALS slots at half inch intervals for wider mounting options into the laser cut laminate layer of the outer belt.
Orders open July 4th, sizes Small – XLarge in Black, Coyote, Ranger Green, and MultiCam.
shaw-concepts.com/products/usurper-belt-system-ups
You can skip to the end and leave a response. Pinging is currently not allowed.