SWANSBORO, N.C. – August 15th, 2023 – Following extensive testing and evaluation, Ogdensburg Police Department (NY) has announced the adoption of the highly-acclaimed Level III CT3 Holster, from High Speed Gear® and Comp-Tac® Holsters, as the official duty holster for its law enforcement officers. This decision reflects the agency's commitment to providing its officers with the latest and most advanced equipment, ensuring officer safety and operational efficiency.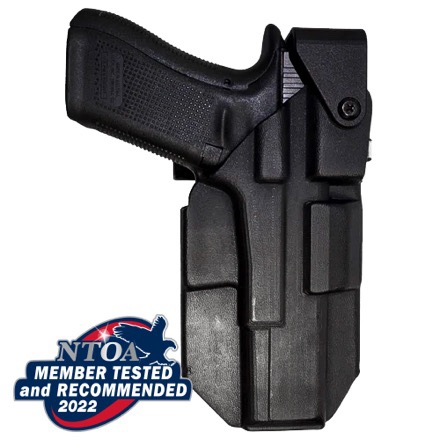 The Level III CT3 Holster sets a new benchmark for quality, durability, and security in law enforcement holsters. The level III retention system provides a higher level of security, ensuring that the firearm remains securely holstered, even in highly dynamic and physically demanding situations. The autolocking ejection port lock and the intuitive self-activated hood system, makes this one of the fastest level III holsters available on the market today, empowering officers to react promptly when split-second decisions are crucial.
Built with rugged and enduring materials, the CT3 Holster withstands the rigors of daily law enforcement use. Engineered using aircraft grade kydex, the holster exhibits exceptional strength, ensuring long-lasting durability and protection for the firearm and officer using it. Its sleek design minimizes bulk, allowing for easy concealment and comfortable wear throughout an officer's shift.
Looking to switch firearms in 2021, Ogdensburg Police Department scoured to find a true level III holster for their custom made Glock 22 gen 5 with a RDS application and weapon light. Expressing their main concern was officer safety and the securing of their firearms during their tour of duty, Ogdensburg PD went with the Level III CT3 Holster from High Speed Gear and Comp-Tac Holsters. Sergeant Ryan Polniak tested the holster for weeks between the range and duty use. He found the holster was easy to use, and provided the security they were looking for.
"I'm a road Sergeant and a K9 handler," says Sergeant Ryan Polniak of Ogdensburg Police Department. "I put the holster through its paces, and I couldn't believe how well it held up. I would put this holster up against any of the mainstream holster companies on the market today. The service that Comp-Tac provided was second to none, and I'm certain that if we should ever change the platform of firearm that we carry in the future, I know I would be looking at Comp Tac for our holster needs first."
Comp-Tac, a trusted leader in the industry, is renowned for their dedication to producing top-quality holsters that consistently meet the demanding needs of law enforcement professionals. The collaboration between Comp-Tac and Ogdensburg PD highlights the agency's proactive approach to sourcing cutting-edge equipment, emphasizing officer safety as a top priority. The agency's personnel have expressed confidence and satisfaction in the design, functionality, and overall performance of the holster, which further attests to the success of this partnership.
With the adoption of the Level III CT3 Holster, Ogdensburg Police Department has taken a significant step forward in enhancing officer safety and enabling seamless operational effectiveness. The agency remains committed to continually investing in advanced technology and equipment to further strengthen its commitment to public safety.
www.comp-tac.com/ct3-level-iii-holster
For more information about the Comp-Tac Level III CT3 Holster, contact:
Truett Whitt
Sales Manager
Comp-Tac Holsters
[email protected]
You can skip to the end and leave a response. Pinging is currently not allowed.