Watertown WI, 6-14 , 2023 –  
Griffin Armament is releasing the CHECKMATE-HD™ suppressor, a 5.8 ounce 5.7×28 pistol rated rimfire suppressor with CARBON-GARD™ technology- the subject of a pending patent. The 5.8 ounce, 5.04″ overall length, suppressor, features a 17-4 heat treated Eco-Flow baffle system, front cap, and integrated EZ-LOK™ QD mounting system. The tube is 7075-T6 billet machined and hardcoat anodized, for maximum strength. The CHECKMATE-HD™ is the new market leader in rimfire suppressors.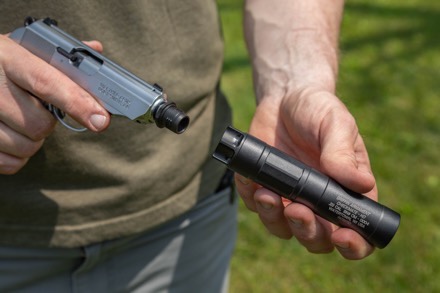 The CARBON-GARD™ technology seals the entire baffle core with high temperature Silicone O-rings. This allows the suppressor to be more user maintenance friendly than any other rimfire suppressor on the market. After 2000 rounds are fired, the inside diameter of the tube and outside diameter of the core are still spotlessly clean for ease of disassembly without specialized tools other than a US Quarter.
Extensive workup was done to the baffle system resulting in a baffle system with zero first round pop and a market leading sound pressure level (SPL) on rifles and pistols.
When asked about the suppressor, Austin, head of Griffin Armament product development said,
"For its very small size and weight, the CHECKMATE-HD™ is probably the most efficient .22lr suppressor in the world. We are proud to bring back a Checkmate rimfire suppressor that can carry the lineage of our initial, 17 year old suppressor model forward into the future. Built on technology related to a recent note-able baffle technology patent, and with pending patents on the mounting system and user serviceable technology, this suppressor delivers unbeatable performance and value in today's market. We specifically targeted the previously market leading rimfire suppressor with this model. This is the new market leader in the rimfire class."
The CHECKMATE-HD comes with an EZ-LOK 1/2×28 coupler and is field ready out of the box. The only supporting accessory outside of various threaded barrel end couplers, is a CAM-LOK® rear mount, making this suppressor very simple, and straightforward for end users to understand and utilize. Unbeatable sound performance, unparalleled ease of maintenance and servicing, light weight, high strength, historically accurate CHECKMATE-QD mounting, and incredibly competitive pricing are the user benefits of the CHECKMATE-HD suppressor.
Key points :
• EZ-LOK™ QD mounting interface and adapter included
• Taper locking QD interface ensures security and accuracy
• Unique patent pending CARBON-GARD™ tech offers an unbeatable user maintenance experience
• Premium 17-4 H900 heat treated stainless steel & 7075-T6 outer tube
• Patent pending ECO-FLOW™ baffle system for reduced blow back and optimally tuned sound performance
• Patented flash reducing tool-less end cap
• PVD and hardcoat anodize provide increased surface hardness, corrosion, and wear resistance
• Warrantied for life with Griffin's Perpetual Lifetime Warranty
CHECKMATE-HD™ Specs:
• DIMS: 1.07"x 5"
• Weight: 5.8oz
• Sound pressure Level:  115db 22lr pistol 4" /  114db 22lr Rifle 16" : No First Round Pop
• MSRP: $459.00
Accessories supported :
• CAM-LOK™ & Adapters (optional)
• Direct- Thread interface (optional)
• EZ-LOK™ & adapters ( interface & 1/2×28 adapter included)
To find out more on Griffin Armament's entire product line, please visit their website at www.GriffinArmament.com.
You can skip to the end and leave a response. Pinging is currently not allowed.