Field Gourmet – The C-Ration Cookbook
Paul The History Dude shared this excerpt from a cookbook produced by the McIlhenny company for troops in Vietnam. The cookbook came as part of a set that could be purchased for $1 and mailed to a service member in Vietnam. The kit came in a cardboard tube and contained a two ounce bottle of classic Tabasco sauce, several P-38 can openers, and the cookbook.
Designed to help troops break up the monotony of C-Ration meals, the cookbook contains recipes for soups, various entrées, and even desserts. The recipes made use of standard C-Ration components, sometimes supplemented by ingredients that could be begged, traded for, or "liberated" for combat cuisine. Recipes included "foxhole dinner for two", "guard relief eggs benedict", and "cease fire casserole".
Walter McIlhenny, then the CEO of the McIlhenny company, was well familiar with how monotonous canned rations could be, having served as a Marine in the Pacific theater during the Second World War. The care packages were put together at his request to give fighting men a taste of home. Though some of the recipes were overly ambitious, troops generally appreciated the care packages.
Tabasco always seemed to brighten up bland cold canned rations. This started a love affair between the military and Tabasco for making rations palatable. Tabasco became so integral to the fighting man's diet that small bottles began being included with MRE's in 1992 and still make appearances in standard issue rations to this day.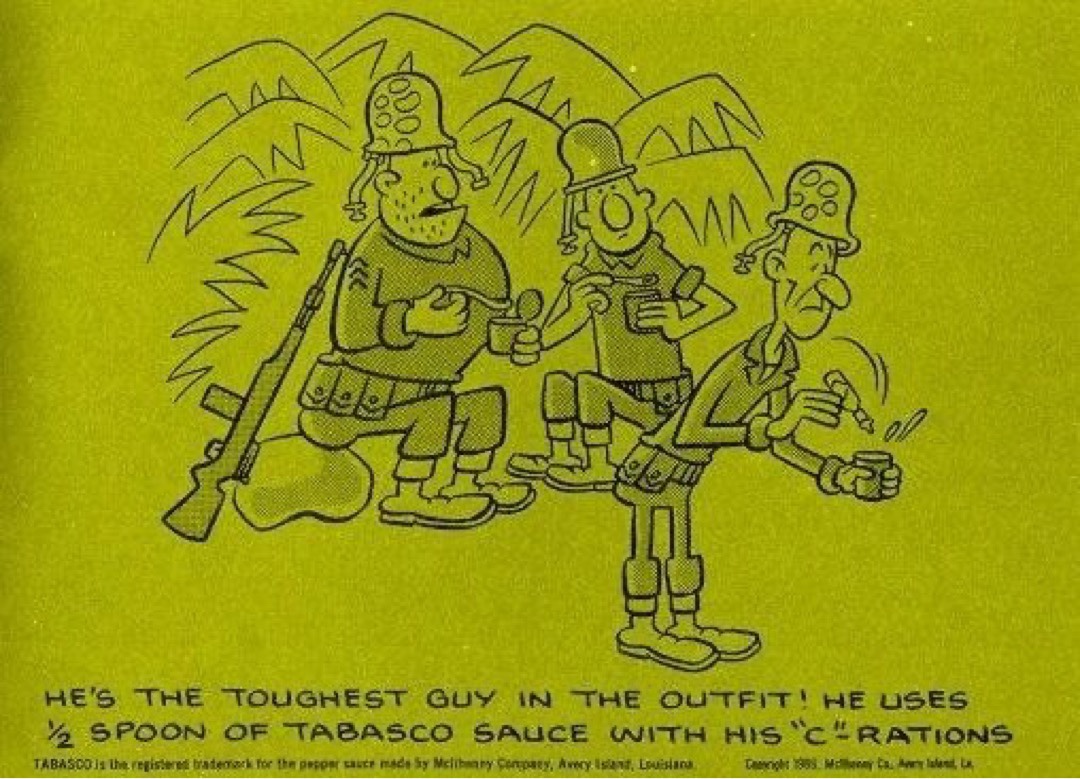 You can skip to the end and leave a response. Pinging is currently not allowed.