Enforce Tac 23 – Rheinmetall Squad Support Weapon 40
Rheinmetall is exhibiting their Squad Support Weapon 40, a semi-auto, box-fed 40mm Grenade launcher. It fires Rheinmetall's new programmable medium velocity rounds as well as legacy low velocity rounds. These rounds can be programmed for airburst and include:
HE Fragmentation (HEFRAG16)
Anti-Tank (HEDP16)
Door Breaching (HEBE14)
Air Burst (HEAB)
Training (TPM, TPM-T)
Illumination / Fog
Sound & Flash and Stimulus Ammunition (CS)
While we see a 5 round magazine, there is also a 3 round magazine under development which sits flush with the bottom of the pistol grip. Additionally, a 10 round magazine is under development. The weapons weighs about 4 kg.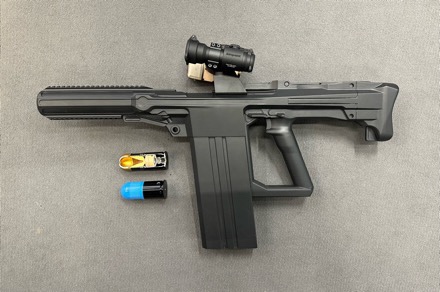 This is the programmer which is the same one they are using for high velocity 40mm rounds fired from the Mk19 and HK GMG. It programs the round via IR.
With the US Army poised to release the Precision Grenadier System requirement, the SSW40 will surely be a contender.
You can skip to the end and leave a response. Pinging is currently not allowed.