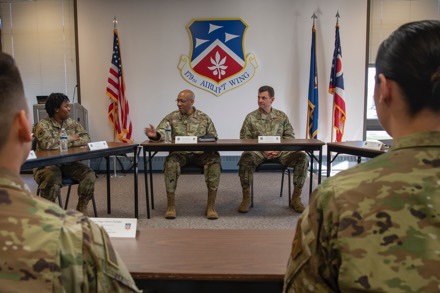 MANSFIELD-LAHM AIR NATIONAL GUARD BASE, Ohio (AFNS) —  
Air Force Chief of Staff Gen. CQ Brown, Jr. visited with Airmen and leadership at the 179th Airlift Wing at Mansfield-Lahm Air National Guard Base April 2, ahead of their historic mission conversion to a cyberspace wing.
During his visit, Brown met with Ohio National Guard leadership, conducted a roundtable with junior enlisted Airmen and hosted an all-call to express his support for the wing and highlight the vital role the 179th AW plays in accelerating change for the future.
"We are in the most dynamic environment we've ever faced so we have to be engaged in change and I can't think of a place in our Air Force facing more change than right here in Mansfield," Brown said. "Cyber engagements happen daily; they are happening right now. That's why what is changing here and what you will do is so important, not just for our force, but for our nation."
The Air Force selected the 179th AW to be the Air National Guard's first cyberspace wing in the country, Aug. 25, 2022, and has been in the process of converting the wing, infrastructure and mission since.
"Mansfield has a unique opportunity. What you are doing here hasn't been done. You can write the playbook for others to follow," Brown said. "It's important for us to engage here as you drive that change."
Brown emphasized the important place Mansfield has in shaping the role of cyber operations in the Air Force. The theme of change and how Airmen must embrace and lean into it for future success was integrated into each part of the visit.
"A critical piece of my strategic approach is the key word … collaboration. As Airmen, we all need to be multi-capable to get the mission done," Brown said. "We do not play to lose. I'm in it to win it and my job is supporting you so you can focus on doing your job."
Before his departure, Brown gave Airmen the opportunity to ask questions before concluding his visit. He also thanked the wing for their resilience through the transitions they have made and will face. Brown reiterated his confidence in the wing's ability to meet the needs of tomorrow.
"As you go through this historic change, don't give up. It's not about what we say that makes a difference, it's about what we do," Brown said. "I trust every one of you and I have your back."
Story by Capt Jordyn Craft, 179th Airlift Wing
Photos by MSgt Joe Harwood
You can skip to the end and leave a response. Pinging is currently not allowed.