Catch Up with Ghost Robotics at SOF Week
Fresh off of a CAPEX last week at Fort Bragg, Ghost Robotics has just participated in multiple operational scenarios for Senior Army Leaders.
Featured in this exercise were VISION 60 Quadruped Unmanned Ground Vehicles controlled by special operators which provided a platform for specialized ISR capabilities.
Ghost Robotics is a manufacturer of ground robots which mimic how mammals move across urban and natural environments offering access to areas denied to other ground vehicles and even humans.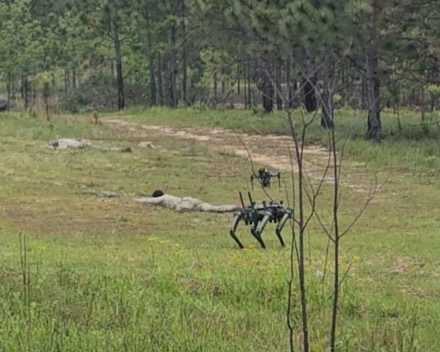 The VISION 60 is designed to accept a variety of Modular Mission Payloads like the ISR capability demonstrated during the CAPEX. It's versatility is limited by the imagination of the user. That's why it's a great platform for USASOC's robotics course which instructs students how to integrate expedient capabilities.
Visit Ghost Robotics in their demonstration area in the foyer right outside the north doors to the main floor to the expo to learn more about the VISION 60 and its inherent adaptability to mission and terrain.
You can skip to the end and leave a response. Pinging is currently not allowed.