HURLBURT FIELD, Fla. —  
During a first-ever Air Force Major Command Change of Responsibility ceremony, Chief Master Sgt. Anthony Green assumed Command Chief responsibilities for Air Force Special Operations Command at Hurlburt Field, Fla., May 19.
Taking the colors from Chief Master Sgt. Cory Olson, Green became the 11th command chief of AFSOC which boasts approximately 22,000 total force and civilian Air Commandos worldwide.
AFSOC commander, Lt. Gen. Tony Bauernfeind presided over the ceremony.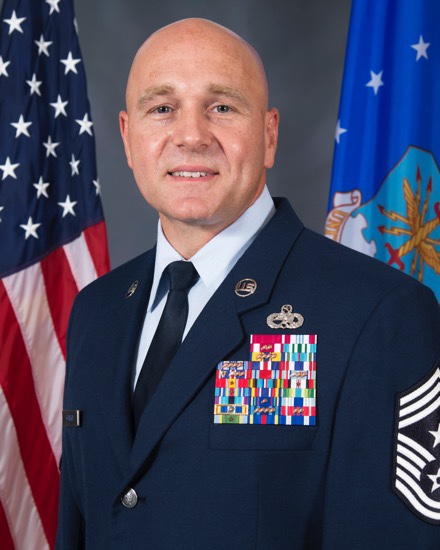 "Command Chief Olson's warfighting mindset, his sound guidance and his wisdom advanced this command for the future," said Bauernfeind. "Command Chief Green is absolutely the right leader to manage and accelerate the change necessary to evolve Air Force Special Operations Command for the future."
Change of Responsibility ceremonies are a standard within the joint community, but this was the first for an Air Force Major Command. Bauernfeind directed the holding of the ceremony to highlight the critical role of the senior enlisted leader in mission success.
Green spoke on the meaning of the title worn by the Airmen of AFSOC, "Air Commandos."
"[The meaning of Air Commando] is not the planes. It's not the cool kits," said Green. "It's what we're called to do. It's the mission. It's the people. It's the team."
Among the attendance of roughly 250 individuals were notable guests such as Deputy Chief for Operations, Headquarters U.S. Air Force Lt. Gen. Jim Slife, Chief Master Sergeant of the Air Force Joanne Bass, and U.S. Special Operations Command Senior Enlisted Leader, Army Command Sergeant Major Shane Shorter.
Green entered the Air Force in September 1995. His background includes positions as an instructor and maintenance technician on the C-130 and various other non-standard aircraft. Throughout his career he has filled numerous roles including Flying Crew Chief, Combat Aviation Advisor, Maintenance Superintendent, and Senior Enlisted Advisor. 
By SSgt Caleb Pavao
You can skip to the end and leave a response. Pinging is currently not allowed.