Airmen from the 445th Operations Support Squadron's aircrew flight equipment (AFE) shop and 89th Airlift Squadron participated in a field testing and training event for the M69 Joint Service Aircrew Mask for Strategic Aircraft (JSAM SA) assembly, the new aircrew flying chem gear June 5-9.
The M69 JSAM SA assembly will replace the Mask Breath Unit-19P Aircrew Eye and Respiratory Protection (AERP) equipment. It is currently approved for all fixed-wing, non-ejection seat, non-pressure breathing large frame aircraft, such as the C-17 Globemaster III.
When the new masks arrived, they were unpacked with each one carefully inspected for defects or damage before being added to the inventory list.
Members with Headquarters Aircrew Flight Equipment and Air Force Life Cycle Management CBRN (Chemical, Biological, Radiological, and Nuclear) Defense Systems from Aberdeen Proving Ground, Maryland participated with the 445th AFE for the equipment inspection and provided the training.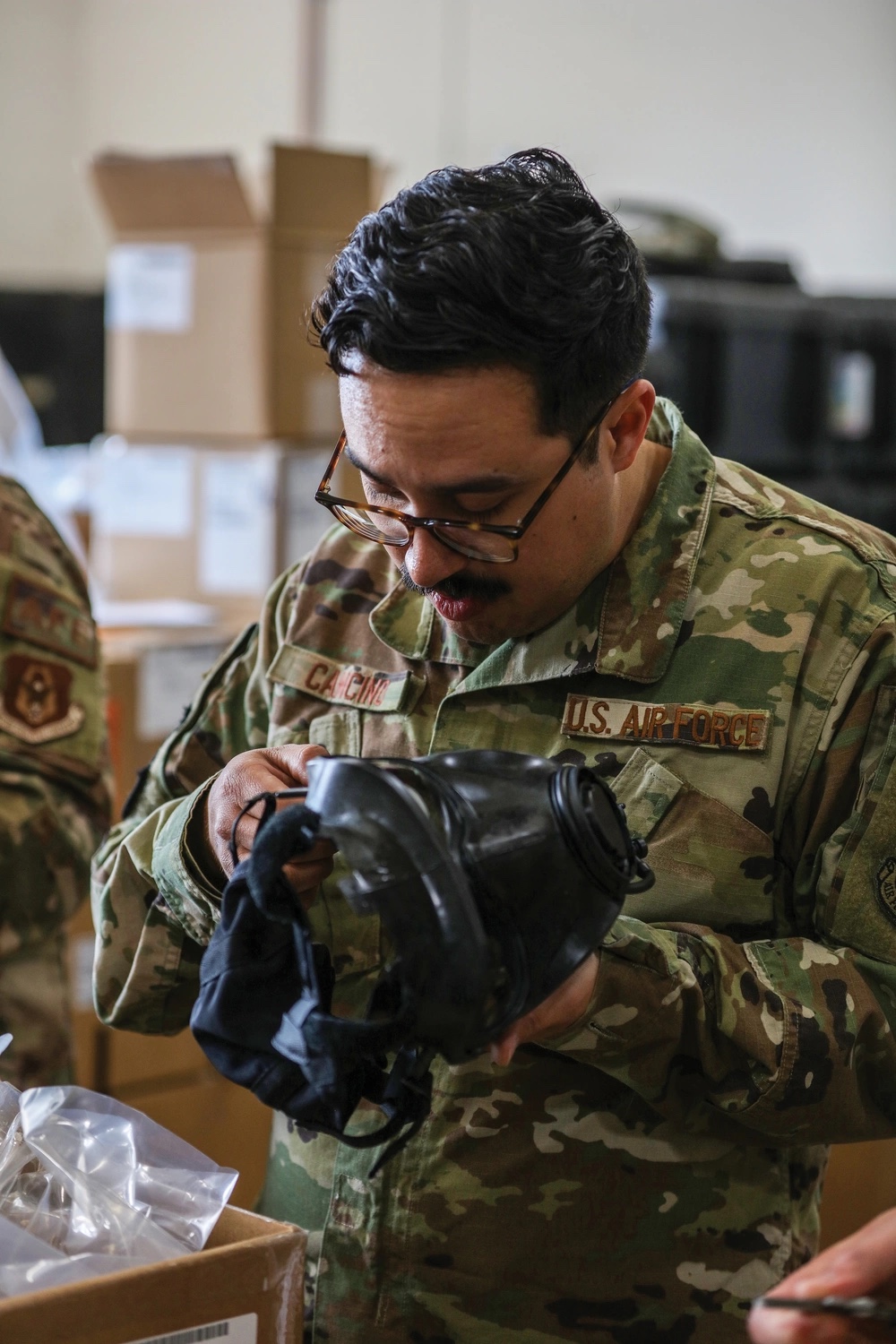 The deputy program executive officer for the AFLC¬MC Agile Combat Support Directorate, Col. Carlos Quinones, was on hand to see how the inspection process works and understand the new assembly in comparison to the current MBU-19P AERP, as the six divisions under his directorate provide materiel solutions, acquisition life cycle management and support equipment, among many other functions, to meet Air Force operational needs.
Master Sgt. Diego Cancino, 445th Operations Support Squadron AFE flight chief, gave high re-marks about the new equipment compared to the current equipment being used.
"The new mask system is a breath of fresh air for both AFE as the equipment maintainers and aircrew as the end user," Cancino said. Our old legacy system, while proven effective, was beginning to show some age, and we felt that we were overdue an update."
Bryan McCoy, a U.S. Air Force Aircrew CBRN fielding coordinator from Aberdeen provided training to 445th AFE Airmen and gave a presentation and demonstration to 89th AS aircrew members (pilot and loadmaster). The purpose was to share information and answer questions that aircrew members might have about M69 JSAM-SA.
The AFE shop will be individually fitting each aircrew member with the M69 mask and providing training on use and wear.
"We are all really excited to implement this new mask to the field here," Cancino said. "The support and guidance we have received from our higher headquarters leadership on implementation and fielding has also been some of the best I have ever experienced in my career."
Story by Stacy Vaughn
445th Airlift Wing, Public Affairs, Wright-Patterson AFB, Ohio
You can skip to the end and leave a response. Pinging is currently not allowed.