The 2022 Black Friday / Cyber Monday Sales Master List is sponsored by our friends at Tactical Distributors.
UPDATED DAILY
Thyrm
XGO
40% off entire order. Free shipping on orders over 100 (after promo code discount amount is applied).
Deep discounts on Phase 1 Performance Lightweight OD Green T-Shirt, Longsleeve Crew and Thermal Pant, and DWR OCP 3pc Rain Suit and Poncho.
Sentry Products Group
Are you ready for the biggest shopping event of the year?
BLACK FRIDAY
• 20% off sitewide
• Exclusive deals on Range Bags, Packs, Belts, Pouches and more
• Free shipping on orders over $75
• Limited-time offers
* Discounts taken at checkout
O P Tactical
The OP Tactical Black Friday Sale is just around the corner! Use code BF23 to receive the discounts in your cart.
·         Friday, November 24 – 10% Off site-wide
·         Saturday November 25 – Sunday November 26 – 12% Off site-wide
·         Monday November 27 – 15% Off site-wide
We are also running a 25% off Salomon & Lowa Sale starting Tuesday November 21st until December 5th and a 30% off Altama Sale starting Monday November 20th until December 1st – No coupon needed for either sale – while supplies last.
Some exclusions apply. See website for additional details. Due to the anticipated volume of orders, shipping and fulfillment may be delayed.
Defense Mechanisms
215 Gear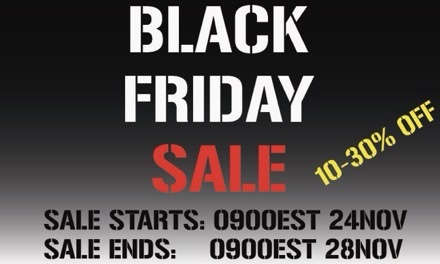 Sparrows
Black Hills Designs
For Black Friday / Cyber Monday we will be offering 40% site wide sales on everything!!!
Plus, Buy one get one free all RANGE-R Card Products (40% off code does not apply to this so it's not 40% off and then another 50% off)
Capital Armory
Black Friday Sales Have Arrived!
There is still some time before the turkey is on the table, but we're starting our Black Friday sale early! This way you won't miss out, and you can spend your time with friends and family or at the deer lease instead of fighting for deals at the last moment.
For all silencers and firearms, you can save 5-15%. On top of that, select silencers also qualify for a $100 Capitol Armory gift card!
If that isn't tempting enough, we're also offering a few suppressors with free tax stamps instead of the percentage discount.
T.Rex Arms
Wednesday November 15 – Newsletter Subscriber Only sale begins for Kydex Products Only
Wednesday November 22 – Newsletter Subscriber Only sale begins for Sitewide Products
Friday November 24 – Public Sitewide sale begins
Monday November 27 – Black Friday sale ends for everyone.
Sale includes most products on our website from Armor, Night Vision, Nylon, Lights, Medical, Optics, and Rifle/Pistol Accessories. Discounts range from 5% to 60% off.
Suppressortools.com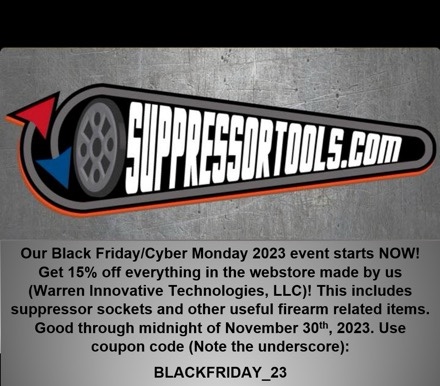 You can skip to the end and leave a response. Pinging is currently not allowed.