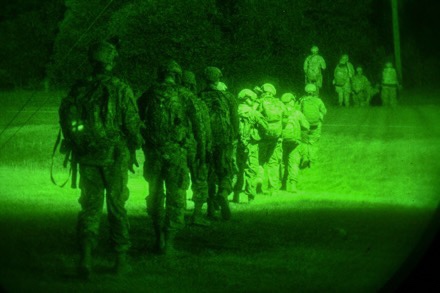 LITTLE ROCK AIR FORCE BASE, Ark. (AFNS) —  
The 19th Security Forces Squadron recently implemented a new 30-day training program to equip defenders with the foundational skills and knowledge to counter peer adversaries, ensure security in an Agile Combat Employment environment and develop leadership qualities as valuable multi-capable Airmen.
The locally designed program, known as Agile Combat Employment and Leadership for Multi-Capable Airmen, was implemented in the squadron to reteach and emphasize the basics of air base ground defense and help train for atypical missions.
Defenders were able to expand their knowledge on dismounted operations and tactics and conduct by-law training, which teaches and evaluates use of non-lethal weapons for de-escalation, to demonstrate mission readiness in a contested environment and at home station.
"The main goal of this program is to better the capability of our defenders by honing in on close-quarters battle tactics and focusing on doing things to help out our adjacent forces, such as explosive ordnance disposal, medical and other career fields," said Staff Sgt. Alexander Jackson, 19th SFS training instructor.
During the course, Airmen went through scenarios where they practiced security and troop-leading procedures while demonstrating base defense principles, force protection measures and multi-domain awareness.
ACE-LMC is an improved and revised program that was constructed from a previous week-long program called Horse Blanket.
"Horse Blanket was beneficial, but it only focused on by-law training and not much on dismounted operations," Jackson said. "ACE-LMC helps us practice more on our skills and become more agile in order to be ready for tomorrow's fight."
Throughout the course, Airmen practiced active threat response in ready training areas, basic communications, chemical biological radiological and nuclear training, comprehensive Airmen fitness, integrated defense, small arms and tactical combat casualty care.
The 30-day training course culminated in a 12-hour field training exercise where defenders spent the night in a simulated contested environment, drilled securing and assuming control over an airfield and practiced various scenarios relating to air base ground defense.
As an instructor, Jackson gives defenders skillset repetitions that can be used in future operations and empowers Airmen at all levels with the opportunity to lead and train in a contested environment.
"My role as the lead instructor for the course is to motivate and bring the intensity back into our career field," Jackson said. "We are trying to get Airmen out of their comfort zones and make sure that they are able to carry out the mission anytime and anywhere."
The ACE-LMC program has successfully introduced critical training into the squadron, aiding in the development of mission-ready Airmen. All defenders are able to benefit from the course, whether they are fresh out of technical training or they have been in the unit for a while.
"As an Airman who just graduated from tech school not too long ago, ACE-LMC has been a refresher and I am able to enhance my skills," said Airman 1st Class Angel Sacta Espinoza, 19th SFS main entry controller. "It really makes us think outside the box and realize that this is preparing us for future conflict against our adversaries. We are touching on stuff we don't really perform day to day."
Although ACE-LMC is currently only available to security forces members, Jackson said his hope is for Airmen from other career fields to be able to experience this training in the future.
"We are trying to integrate adjacent career fields to join in the course as well in order for them to gain familiarization on skills that could help them during a situation not related to their job," Jackson said. "We want to make it bigger and better every time, and every day we learn something new and different in order to improve the course."
By Airman 1st Class Maria Umanzor Guzman, 19th Airlift Wing Public Affairs
You can skip to the end and leave a response. Pinging is currently not allowed.