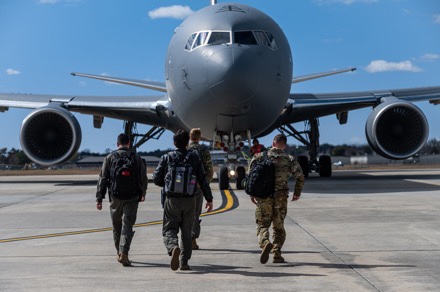 JOINT BASE MCGUIRE-DIX-LAKEHURST, N.J. (AFNS) —  
The 305th Air Mobility Wing conducted the first iteration of their annual training exercise, White Stag, at Joint Base McGuire-Dix-Lakehurst, March 8-9. 
White Stag is a wing level exercise implemented as a self-evaluation, validating the wing's Full Spectrum Readiness and ability to deploy, operate and sustain rapid global mobility in any contested environment. Additionally, White Stag serves as a training opportunity for the 305th Air Mobility Wing to prepare for Air Mobility Command's largest exercise, Mobility Guardian 2023, later this year.  
"We're starting to push Airmen past their comfort zones with these training exercises and change their mindsets," said Lt. Col. James Salazar, 305th AMW inspector general. "Future conflicts won't be the same as anything we've previously been involved in, it's going to be fast paced with less support from a main operating base." 
With rapid mobilization generation as a foremost priority, White Stag began with an engine running crew change, demonstrating how quickly and efficiently aircrews can swap roles while the aircraft is running, minimizing the possibility of maintenance issues. ERCC's ensure units are always ready to go with presenting a consistent and sustainable mobility force, aligning mission priorities with the new Air Force Force Generation model.
"Once a KC-46A Pegasus tanker has landed, maintenance has several hours to service and fuel the aircraft," said Maj. Gage Owens, 305th AMW chief of wing exercises. "With an ERCC, we plan for approximately 45 minutes from landing, to crew swaps, and takeoff, which mitigates the time the aircraft is on the ground."
During White Stag, crews were also able to implement the use of Agile Combat Employment concepts which allowed operations to shift from centralized physical infrastructure to a network of smaller, dispersed locations that can complicate adversarial planning and execution, providing increased flexibility, sustainability and defense options for joint force commanders.
"We've taken the classic elements of a readiness exercise and enhanced it with high-end training that we don't always incorporate," Salazar said. "For example, the wet-wing defuel is a newer capability that we've been working utilize across the C-17 fleet. We're incorporating some of the ACE concepts and simulating what it would be like if our crews were required to operate in an austere environment, with minimal resources, personnel and support." 
These elements enable allied forces to operate with varying levels of capacity and support to generate lethal combat capability. 
"This iteration of White Stag focused on minimized ground times and building flexibility," Owens said. "Dynamic re-taskings were a big factor for this exercise. We had wing inspection team members flying on the airplanes and they would toss inject cards to the crew that would divert the aircrews, forcing them to replan at the last minute to accomplish the mission." 
The use of inject cards was to simulate real-life situations air crews might face during conflict that may require crews to act with little to no planning. 
The integration of complex operational capabilities like ERCC and the wet-wing defueling enabled the teams at JBMDL to build their proficiency, knowledge and comfort while operating in high threat environments. It also allowed the 305th AMW to incorporate the 87th Air Base Wing, enabling Total Force integration with plans to expand those relationships across the Department of Defense. 
"This exercise has helped with facilitating and building a lot of key relationships," Owens said. "With upcoming exercises, we'll continue to build relations with our joint partners like the 87th ABW, Navy, Marine Aircraft Group 49, the 108th Wing, and the National Guard units out in Atlantic City. We'll continue to capitalize on Joint Force integration as we increase the scope and scale of these exercises." 
Total Force mobility Airmen are the backbone of ACE, and the AFFORGEN model provides consistent training opportunities for the 305th AMW to develop and employ mobility Airmen to generate-fly-deliver worldwide. 
Exercises like White Stag further empowers airmen to employ ACE concepts, deter the pacing challenge and project critical support to the Joint Force from the DoD's only tri-service installation.
By Senior Airman Sergio Avalos and Senior Airman Joseph Morales
Joint Base McGuire-Dix-Lakehurst Public Affairs
You can skip to the end and leave a response. Pinging is currently not allowed.