Indy 23 – Maxim Defense MS-9 Suppressor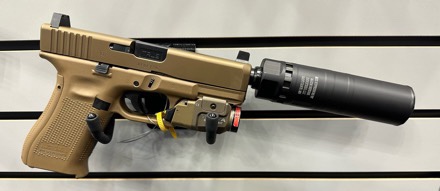 Debuting at NRAAM, the new Maxim Defense MS-9 is both modular and a direct thread mount suppressor. It can be configured as long (7.5″/10.5oz) or short (5.375″/8.7oz). Manufactured from 17-4 Stainless Steel and 7075-T6 Aluminum, it is Cerakoted. Both pistol and rifle rated, it features a Dead-Air P Series Booster.
The average measurement per MILSTD-1474D is 134dB in the short configuration and 131.9 dB in the long configuration tested on a 4" barrel Glock 19 Gen 5 using Federal 147gr 9mm measured at the shooter's left ear.
You can skip to the end and leave a response. Pinging is currently not allowed.