In Response to High Demand: High Speed Gear Releases the LR-XL TACO for Large Precision Rifle Magazines
SWANSBORO, N.C. – February 1st, 2023 – High Speed Gear, the manufacturer of the rifle magazine pouch for the United States Marine Corps, announces the LR-XL TACO®.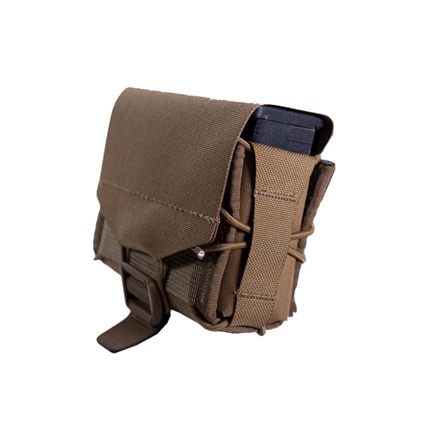 The LR-XL TACO® magazine pouch was developed to hold large precision rifle magazines for firearms such as the Barrett® MRAD® MK22™. Not only is the LR-XL TACO equipped with adjustable retention, it also features a cover which is secured with a silent closure system. The cover can also be removed for open-top use. This TACO is MOLLE mounted, features MOLLE webbing on the front, and includes two HSGI® MOLLE clips. It has flexible side walls which wrap the sides of the magazine to enhance retention and keep out debris. Like all High Speed Gear products, the LR-XL TACO is made in the United States and is Berry Compliant.
"With the recent adoption of the Barrett MK22 sniper rifle as a tool for PIGS, HOGS and Razorbacks, HSGI has created the best MK22 silent closure, removable flap magazine TACO pouch for the Sniper Community," said David Jackson, Director of Government Sales for High Speed Gear. "This product was designed with direct input and recommendations from end users at a Tier One sniper school."
To view the LR-XL TACO on the High Speed Gear website, visit: www.highspeedgear.com/lr-xl-taco
For additional information, please contact:
David Jackson
You can skip to the end and leave a response. Pinging is currently not allowed.