SWANSBORO, N.C. – February 9, 2023 – High Speed Gear announces the release of the Polymer TACO® V2 product line up. This new TACO line revamps the design of the well-loved, original Polymer TACO®, while adding additional features.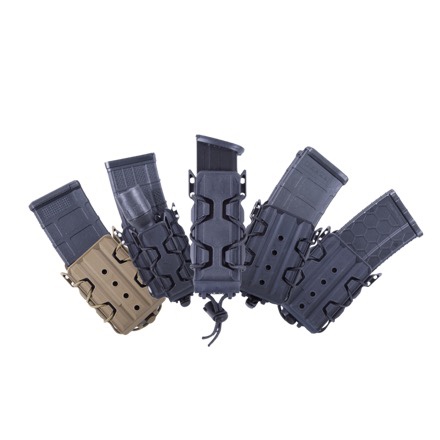 The Polymer TACO V2 was developed with input from both military service members, law enforcement officers and end-users. The new shock-cord lacing system allows for easy customization, such as stacking multiple pistol and rifle magazines. The product also has an overhauled, modernized design, fitting the Battle Proven Tactical Gear™ slogan of High Speed Gear.
The flared opening and waterproof, non-absorbent polymer was built with durability in mind as well as ease of use. Like all High Speed Gear TACO's, the Polymer TACO V2 product line up is versatile and fits multiple types of magazines and/or like sized objects such as multi-tools, flashlights, OC Spray, etc.
"The Polymer TACO V2 has been one of our most tested products to date," said Allison Mitchum, Director of sales and marketing at High Speed Gear. "It has been tested by some of our local US Marines, as well as police officers who require the highest standard of product. High Speed Gear takes great pride as well as great care in everything we bring to market, and we are very proud of the newest Polymer TACO V2 line up."
Features include:
• Mounts to MOLLE or belts up to 2" with HSGI Universal Clips
• Made of waterproof, non-absorbent materials
• Flared opening for easy reinsertion of magazines
• Modular attachment points on front and back, allowing other Poly TACOs to be added
• Opposite interior magazine catch channels enable smooth insertion of both left and right-facing AR-style magazines
• Universal mounting hole configuration works with most mounting hardware
• Lock-in mechanism for AR magazines for additional retention security
For more information, visit the HSGI website at www.highspeedgear.com/tacos/kydex-tacos
Check out the HSGI YouTube channel at youtu.be/TgoVAu0udfE
You can skip to the end and leave a response. Pinging is currently not allowed.