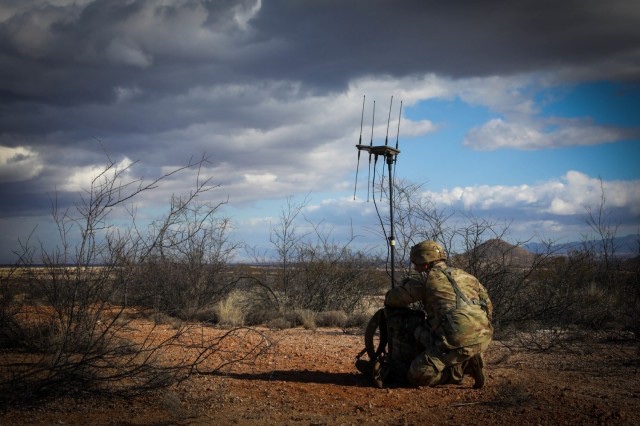 FORT HUACHUCA, Ariz. — Senior leaders from across the Army converged on Fort Huachuca on Feb. 13, to observe a new development in Army Modernization: the successful conclusion of the 1st Multi-Domain Effects Battalion's inaugural exercise, conducted on the newly built 1st Lt. John R. Fox Multi-Domain Operations Non-Kinetic Range Complex.
Throughout the day, the 1st MDEB demonstrated a wide array of non-kinetic effects, highlighting the significance of this milestone in the 1st Multi-Domain Task Force's path to become fully operationally capable.
The Multi-Domain Effects Battalion, assigned to the 1st Multi-Domain Task Force, has the mission of employing non-kinetic effects to deter adversary aggression in the Pacific.
The commander of the U.S. Army Intelligence Center of Excellence and Fort Huachuca, Maj. Gen. Anthony Hale, hosted the visiting party, consisting of almost 50 general officers and senior leaders, to demonstrate the effects of a collaborative effort to create realistic training and to test Army crews on using technologies and hardware that no military on earth has ever before fielded.
"This is a great opportunity for Fort Huachuca to show our unique capabilities in the electromagnetic spectrum on the 1st Lt. John R. Fox range," said Hale. "We have 700 acres of training area, we have 1,500 square miles of restricted airspace, and since we are surrounded by mountains, we can keep the electrons in our range complex. And this really allows the MDEB to come out here and really test their capabilities to train on their systems that they are going to deploy with into theater."
Completion of this range complex marks the culmination of two years of collaborative effort, starting when the Chief of Staff of the Army approved Fort Huachuca for a planning task to develop the first multi-domain operations-capable range.
"We have been testing equipment for the Army and for the joint force for over 70 years now we are bringing this training capability, not only to the Army, but to the joint force," said Hale. "The MDEB is training their teams on their equipment that they will deploy with into theater and use. As we do that in the joint environment, that makes everybody better in our warfighting capabilities."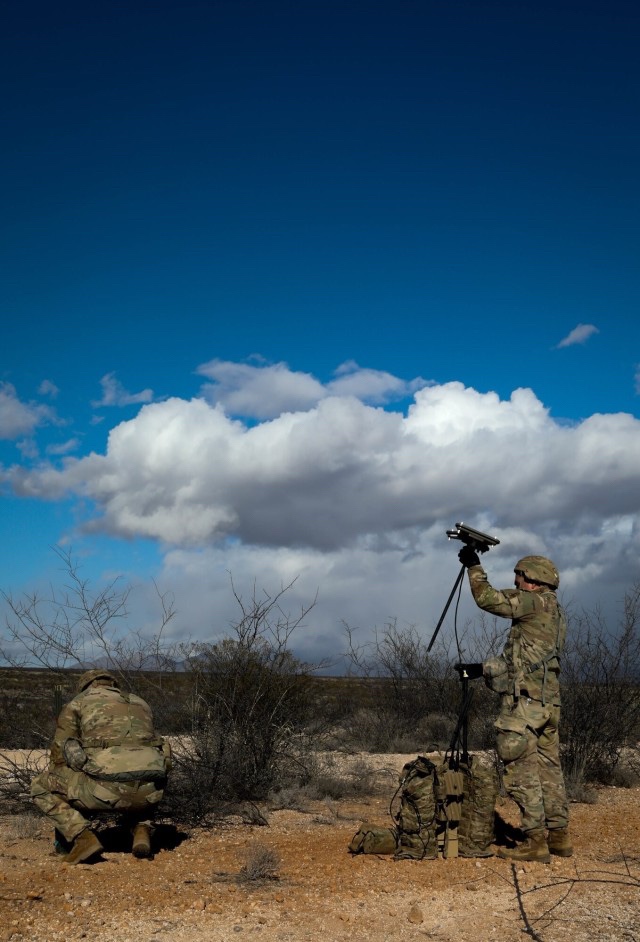 Soldiers training on this new range complex emerged with an enhanced understanding of multi-domain operations and their important role in the Pacific region, ultimately to ensure a free and open Indo-Pacific.
"This will certainly be a key component of our training program as we move forward," said Brig. Gen. Bernard Harrington, commander of the 1st Multi-Domain Task Force. "As our Soldiers go through this training, they are rehearsing their individual and small unit tasks in preparation to deploy forward in theater and operate in a real-world environment."
This exercise is a major milestone, and a critical part of a massive Department of Defense effort to modernize the force and prevent future conflicts.
"The Army and the Department of Defense is taking on the largest modernization effort in the last four decades," said Peter Don, Senior Technical Advisor for USAICoE and Fort Huachuca. "We realized that as we modernized our kit, our capabilities, and our formation, our ranges were not keeping pace and would not allow us to work through the next generation of weapon systems, collection systems, and also have us work through our warfighting functions and concepts. So, we wanted to create an environment and a range and a training area that would allow us to train and certify our Soldiers on their weapon systems, but also explore and expose different technology that will allow us to adjust how we need to fight."
Story by LTC Derek Wamsley, 1st Multi-Domain Task Force
Photos by SFC Henrique De Holleben
You can skip to the end and leave a response. Pinging is currently not allowed.