Kevlar® EXO™ offers an unmatched combination of protection, lightness and flexibility
Law enforcement officers and military personnel to be the first to experience the new fiber in soft body armor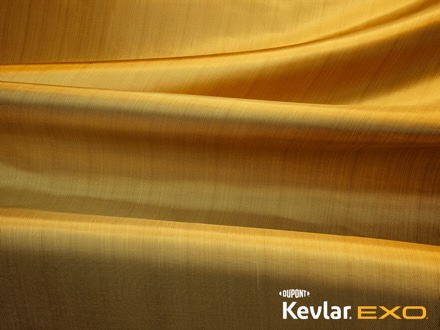 WILMINGTON, Del., April 14, 2023 – DuPont (NYSE:DD) today unveiled Kevlar® EXO™ aramid fiber, the most significant aramid fiber innovation in over 50 years and an entirely new technology platform developed to serve endless applications where performance and protection is required in the midst of intense and demanding conditions. Life protection will be the first of many Kevlar® EXO™ use cases that will offer an unprecedented combination of lightness, flexibility and protection from an aramid fiber.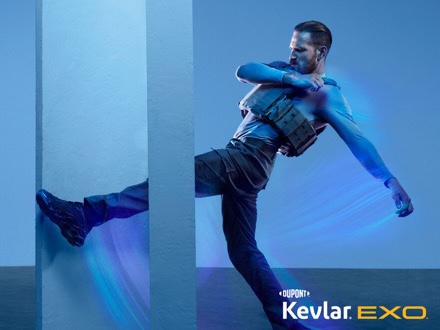 DuPont™ Kevlar® has long been the advanced material behind high-performing body armor that protects those who serve. Now, with body armor crafted using Kevlar® EXO™, military and law enforcement officers can experience previously unavailable levels of ballistic protection without compromising on mobility and comfort. With unmatched pliability, Kevlar® EXO™ contours to curves and body lines, providing a more body-inclusive solution while still offering maximum protection.
"We've spent over a decade developing, refining and perfecting Kevlar® EXO™, and the result is an industry-altering platform that has catapulted our life protection capabilities to a whole new level," said Steven LaGanke, global business leader, DuPont Life Protection. "Developed and tested by leading materials experts at DuPont, Kevlar® EXO™ offers never-before-seen ballistic and thermal performance while also providing a flexible and lightweight solution that empowers users to operate at peak performance. Whether for military members, law enforcement officers, private security or emergency responders, pound for pound, Kevlar® EXO™ users can better manage energy output even during the most demanding physical tasks."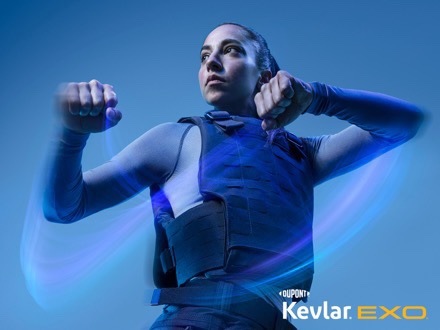 First-of-its-kind Kevlar® EXO™ aramid fiber is incomparably better and more durable than even the highest-performing soft body armor materials available. Kevlar® EXO™ offers the following benefits:
The highest ballistics performance among all aramid fibers without compromising on weight, enabling the best-in-class, lightest weight ballistics soft armor solutions available on the market today
Peak flexibility, offering increased comfort and mobility, contouring to curves and body lines with less restriction for maximum defense, when paired with exceptional carrier design
Inherently flame- and temperature-resistant; melt- and ignite-proof up to 500°C (932°F)
Delivers the same level of protection after five years as it provides on day one
Made in the USA at DuPont's new manufacturing facility in Spruance, Virginia
Endlessly customizable wearability for use case and body type
DuPont will debut Kevlar® EXO™ at the Best Ranger Competition (April 14-16, 2023), which brings together some of the United States military's most talented soldiers to go head-to-head in a grueling competition that simulates the physical and mental challenges of combat. At this year's competition, United States Army Rangers will be the first soldiers in the world to wear body armor vests made with Kevlar® EXO™, enabling them to experience peak flexibility and comfort as they conquer each challenge.
To learn more about Kevlar® EXO™ aramid fiber, visit www.KevlarEXO.com.
You can skip to the end and leave a response. Pinging is currently not allowed.