ARLINGTON, Va. (AFNS) — Chief Master Sgt. John F. Bentivegna was selected May 5 to become the next Chief Master Sergeant of the Space Force.
Bentivegna is currently serving as the Senior Enlisted Advisor to the Chief Operations Officer and the Enlisted Space Systems Operations Career Field Manager at Headquarters Space Force, Washington D.C.
In making his selection, Chief of Space Operations Gen. Chance Saltzman said, "I needed someone that would bring a perspective on our future that was articulated differently from mine."
"Someone who could (and would) challenge my assumptions and ensure that important issues were evaluated from multiple angles and would catch things I missed," Saltzman continued. "All the candidates had tremendous experience, skills, and expertise and it made it a close run."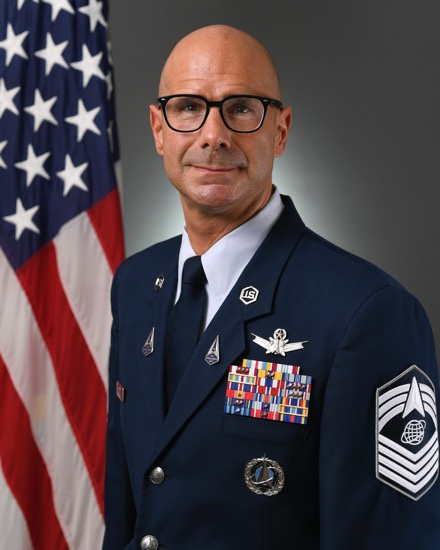 This was an open selection process and any Space Force chief master sergeant with 22 years' time in service and three years' time in grade could apply.
Saltzman selected Bentivegna from a group of five candidates who underwent a four-day evaluation process that vetted their skills and leadership capabilities. The process, along with personal interviews with each candidate, helped Saltzman make his final decision by giving him data on how the chiefs performed in various exercises and assessments.
"Chief Bentivegna brings a wealth of operational experience, a dedication to caring for our Guardians, and the spirit needed to take our service to the next level," Saltzman said.
Bentivegna has been a space operator for more than 25 years, and has held positions at the squadron, group, wing, Numbered Air Force, Field Command and Headquarters Air and Space Force levels.
"It's overwhelming and incredibly humbling to be offered the opportunity to become the next Chief Master Sergeant of the Space Force" Bentivegna explained. "I am really excited to have that opportunity to work next to General Saltzman to help fulfill his vision for where the service needs to go."
"We have run really fast to develop the service and shape what it's going to be," Bentivegna continued. "We have charted a vision for the future, and I want to deliver that vision to our Guardians and the joint force. I know this is going to take collaboration, communication, policy and processes to make that happen. I am humbled that I get to be the one to champion these efforts for them in the future."
As the next CMSSF, Bentivegna will be appointed as the Space Force's highest noncommissioned officer position, making him only the second person in history to hold the title.
"Chief Towberman was the first Chief Master Sergeant of the Space Force, and there was no one better to guide us through that initial launch phase of the Space Force. Just like actual space launch, there's a lot of anticipation, it's exciting, it's energetic, it's violent, but it was also so critically important," Bentivegna said. "He was the enlisted leader that got us out of the atmosphere and into orbit. Now I'll have the opportunity to work with our Guardians to continue getting them combat ready."
"He's been right here with us every step of the way," said Chief Master Sgt. of the Space Force Roger A. Towberman. "He knows where we've been and believes in where we're going. I couldn't be happier for our Guardians or more proud of how it's all coming together. He's exactly who we need right now."
Bentivegna joined the U.S. Air Force August 1994, and transferred into the U.S. Space Force September 2020.  He started his career as a Precision Measurement Equipment Lab Technician in McGuire Air Force Base, N.J., before cross-training to become a space operator in 1998. He eventually went on to serve in several command chief assignments and served as the senior enlisted leader for Space Operations Command at Peterson Space Force Base in Colorado before his current position.
As the CMSSF, Bentivegna will act as the personal advisor to the CSO and the Secretary of the Air Force on all issues regarding the welfare, readiness, morale, proper utilization, and development of the Space Force. He will also provide direction for the enlisted force and represent their interests, as appropriate, to the American public and to those in all levels of government.
By Secretary of the Air Force Public Affairs
You can skip to the end and leave a response. Pinging is currently not allowed.